Heathrow systems outage causes cancellations and delays for thousands
Comments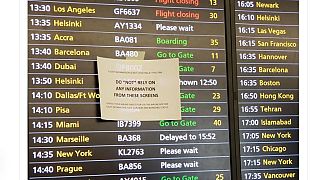 -
Copyright

Manish Kumar/Twitter
Thousands of passengers were facing cancellations and delays on Sunday after a systems failure affecting all terminals at London Heathrow airport.
Departing passengers reported "pandemonium" in terminals, with workers using pens and whiteboards to list departure gates for flights as information screens were rendered useless.
Arriving travellers were stuck on planes awaiting gates or waiting in the terminal for bags as the outage also affected baggage delivery systems.
"Today's technical issue has now been resolved and Heathrow's systems are returning to normal," a spokeswoman told Euronews late on Sunday. "We apologise for the inconvenience this has caused our passengers. Our teams will continue to monitor our systems and will be on hand across our terminals to provide assistance to passengers as we work to resume our regular operations."
It comes on top of travel disruption caused by Storm Dennis.