Streatham terror attack: 2 stabbed on busy street before suspect shot dead
Comments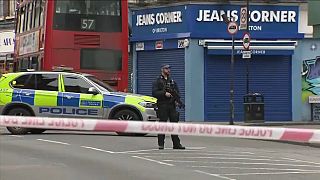 A suspected Islamist terrorist wearing a fake suicide bomb was shot dead by police after stabbing two people in a "confusing and alarming" attack in the south London suburb of Streatham.
The drama unfolded as shoppers and diners were out on the busy Streatham High Road at 2pm on Sunday afternoon.
The stab victims — a wounded woman and a man who suffered life-threatening injuries — were being treated in hospital, the Metropolitan Police said. A third person, a woman in her 20s, was hurt by glass after the shooting.
Police were immediately on the scene, amid reports that the suspect was under surveillance having previously served a prison sentence for terrorism offences. Police said they were confident the suspect was 20-year-old Sudesh Amman.
'They shot him three times. It was horrible seeing it.'
Witnesses reported shock after gunshots rang out in the street, while video posted to social media showed nearby shops and restaurants being investigated.
Karker Tahir said he was at work when he saw police chasing a man down the street.
"They kept telling him, 'Stop! Stop!'' Tahir said. "But he didn't stop, and then I saw that they shot him three times. It was horrible seeing it. The man was on the floor and it looked like he had something, which police said may be a device. Police came to us and said, 'You have to leave the shop because he has a bomb in his bag.'"
Emergency medical vehicles quickly filled the street and helicopters hovered overhead.
It comes a little over two months after two people were stabbed to death near London Bridge by a man who had recently been released from prison, where he was serving a 16-year sentence for plotting a terror attack.
In a statement, Metropolitan Police Deputy Assistant Commissioner Lucy D'Orsi said the suspect was pronounced dead at the scene.
"A device was found strapped to the body of the suspect and specialist officers attended," she said. "Cordons were put in place and it was quickly established that this was a hoax device."
Terror investigation
She added: "The situation has been contained and officers from the Met's Counter Terrorism Command are now leading an investigation into the incident. The incident was declared as a terrorist incident and we believe it to be Islamist-related.
"We would like to thank the numerous members of the public who assisted officers and ambulance staff this afternoon following a very confusing and alarming incident."
British Prime Minister Boris Johnson tweeted: "Thank you to all emergency services responding to the incident in Streatham, which the police have now declared as terrorism-related. My thoughts are with the injured and all those affected."
Also on Sunday, police in Belgium shot a woman who stabbed and wounded passersby in the city of Ghent, but prosecutors said there was no suspicion of terrorism or a link to what happened in London.