Trump slams Trudeau as 'two-faced' over video apparently mocking him
Comments
By Euronews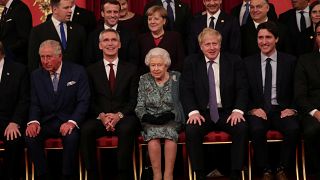 Copyright

Yui Mok/Pool via REUTERS

-
US President Donald Trump slammed Justin Trudeau as "two-faced" after a video emerged showing the Canadian Prime Minister and other world leaders apparently mocking him.
Trudeau, France's Emmanuel Macron and Britain's Boris Johnson were caught on camera in a conversation joking about US President Donald Trump during a NATO reception at Buckingham Palace on Tuesday evening.
Much of the conversation is inaudible but the Canadian Prime Minister can clearly be heard speaking about a "40-minute press conference".
Trudeau said in a press conference that he was speaking about Trump's impromptu press conference which he said was "notable".
Earlier on Tuesday Trump had addressed issues ranging from NATO to North Korea and trade to impeachment proceedings at two long question-and-answer sessions with reporters, first alongside NATO Secretary-General Jens Stoltenberg and then with French President Emmanuel Macron.
After that, Johnson tells Macron: "Is that why, is that why you were late?"
Dutch Prime Minister Mark Rutte laughs and says "Fake news media," a term Trump uses frequently to criticise the press.
"I just watched his team's jaws drop to the floor," Trudeau continues.
Then, he tells Johnson: "Yes, no, no, I think that's Doral, Doral, yes, in Miami." Doral, Florida, is the location of the next G20 summit.
Trudeau explained in a press conference that he was referring to the news that the G7 summit would be hosted at Camp David. He defended the discussion, stating that leaders had "an interest" in where the next summit would be held.
The conversation was recorded by a Host Pool camera filming at Buckingham Palace during an event to mark 70 years of the NATO Alliance, hosted by Britain's Queen Elizabeth, ahead of the NATO summit on Wednesday.
Trump reacted to the video during a bilateral meeting with German Chancellor Angela Merkel. He said of Trudeau: "He's two-faced."
Trump later tweeted that he had cancelled his press conference "because we did so many over the past two days".
Boris Johnson, when asked about the conversation, said he didn't know what exchange reporters were referring to and said it was "complete nonsense" to suggest that they didn't take Trump seriously.
READ MORE: Watch: Trump and Macron clash at awkward NATO news conference