France and Germany vie for NATO leadership amid 'brain death' controversy
Comments
By Euronews with Reuters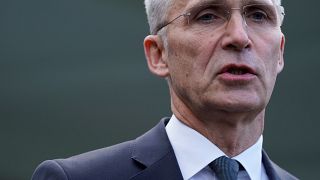 -
Copyright

REUTERS/Jonathan Ernst
France and Germany each sought to claim European leadership within NATO on Wednesday in the first ministerial meeting since French President Emmanuel Macron branded it "brain dead".
Amid questions about US President Trump's reliability, anger at Turkey's incursion into Syria last month and American doubts over Europe's commitment, Germany's Foreign Minister Heiko Maas said Europe must not go it alone.
Maas instead proposed to counterparts at a NATO foreign ministers meeting that Secretary-General Jens Stoltenberg create a commission of experts to debate strategic issues.
Separately from Berlin's proposal, French Foreign Minister Jean-Yves Le Drian also raised the idea of a "wise persons" group to consider NATO's future, two diplomats said, although details were not immediately available.
Both ideas would widen NATO's original remit, since its 1949 foundation, of protecting Europe and North America, to potentially encompass new areas such as Syria's eight-year-old civil war and the Middle East.
Stoltenberg praises Berlin's proposal
As Stoltenberg spoke to reporters on Tuesday after a meeting of the Alliance's Foreign Ministers, he faced a number of questions on Paris and Berlin's proposals.
"All allies expressed very strong support to NATO and the importance of transatlantic unity," Stoltenberg said.
"The proposal from Minister Heiko Maas received support from many allies. And I think it has value and we will look into it as we prepare for the upcoming leaders' meeting and then we'll decide what to do."
He avoided responding directly to a separate question on his assessment of the French proposal.
"We all agree that NATO remains indispensable for our security," Stoltenberg said. "We are stronger as we face the future together."
Space becomes a new operational domain
NATO Foreign Ministers were meeting on Tuesday to prepare for the meeting of NATO leaders in London on December 4, Stoltenberg said.
Among other announcements, he said the alliance would now recognise space as a new operational domain, alongside air, land, sea and cyber.
However, the Alliance's Chief added, NATO has no intention to put weapons in space. "We are a defensive organisation," he told reporters.
Other topics on the agenda included "NATO's progress in achieving fairer burden-sharing among Allies, and strategic issues, including NATO's relations with Russia, arms control and the implications of the rise of China."
Earlier on Tuesday, Stoltenberg defended the relevance, importance and strength of the transatlantic alliance. He disputed the idea that the US considered the alliance less important under President Donald Trump, arguing that European unity is not a substitute for unity with the US
"If we look back at the history of NATO, we have seen disagreements before - dating back to the Suez crisis in 1956 all the way to the Iraq war in 2003," he said.
"But the strength of NATO is that despite this we have always been able to unite around our core task - to protect and defend each other."
READ MORE: US-Europe ties are stronger than ever, says NATO chief Jens Stoltenberg