At least four detained as police clash with Catalan separatist supporters in Barcelona
Comments
By Euronews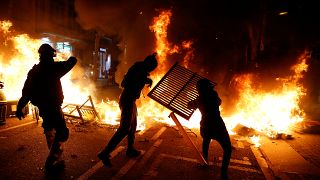 Violent clashes between Spanish police and Catalan separatist supporters erupted for a second consecutive day in response to the jailing of nine pro-independence leaders.
Thousands of people took part in the protests across Barcelona on Tuesday evening in a show of the movement's strength after the Supreme Court sentencing a day earlier.
Pictures from the protests in central Barcelona show riot police grappling with protesters and trying to push them away, while fire fighters attempt to extinguish fires started in rubbish bins.
Fences were also lit on fire next to La Pedrera, made by the famous Catalan architect Antoni Gaudi and one of the city's main attractions.
Meanwhile, at least four people have been detained close to a local government building after police officers rushed a crowd in order to move them back.
A spokesman for the regional Mossos police said they were trying to make space around the local Spanish government headquarters.
A spokeswoman for the pro-independence Catalan regional government was quick to condemn the violence, saying that separatists had always been peaceful and that an isolated group of individuals was sullying the movement's reputation.
"The regional government condemns all violent actions as we always have done," spokeswoman Meritxell Budo told Spanish national broadcaster TVE.
In a statement, the acting Spanish government condemned the ongoing protests across the region and sent encouragement to police.
"A minority is trying to impose violence in the streets of Catalan cities," the statement said, without giving further details.
The leader of Spain's centre-right People's Party (PP), Pablo Casado called on acting prime minister Pedro Sanchez to activate a national security law and take control of Catalonia's security forces to "guarantee security and public order."
The violence on Tuesday evening followed similar protests across the city a day earlier that left more than a dozen people injured and forced the cancellation of a hundred flights at El Prat airport after scores of people blocked access to the terminal.
Recent unrest in Spain's Catalonia region has been sparked as a reaction to nine Catalan separatist leaders being handed sentences of up to 13 years in prison for their part in the region's failed bid for independence in 2017.
In statement after the verdict on Monday, Catalonia's regional president Quim Torra said the sentence was an "insult to democracy" and said locals would react with "firmness and civility".
"We call for an end to repression, for the release of the political prisoners, for the exiles to be free to return home, for an amnesty that should mark an end point for all of those who have suffered reprisals," he added.
During the protests on Tuesday, Torra remained defiant.
"We will insist always, here, today, and at the regional Parliament too: our right to self-determination is recognised by all international treaties, also signed by Spain. We will never fail in the exercise of the right to self-determination."
Oriol Junqueras, who was given the longest prison sentence, said in an interview with Reuters that the sentence would only galvanise the independence movement.
"We're not going to stop thinking what we think, ideals can't be derailed by (jail) sentences," he said, adding that a new plebiscite was "inevitable".
Watch the full report in the media player above