Clinton kept his party with him to stop impeachment. Trump's approach is different.
Comments
By Steve Kornacki with NBC News Politics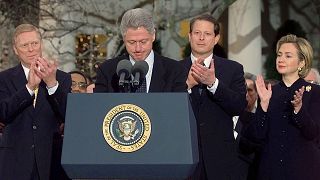 Copyright

Doug mills AP file

-
When Bill Clinton was finally forced to admit the truth, it wasn't clear at first that his party would stick by him.
It was in August 1998 that, thanks to an infamous blue dress and a presidential blood sample, independent counsel Ken Starr obtained proof that Clinton had been intimately involved with Monica Lewinsky. Until that point, the president's finger-wagging insistence that "I did not have sexual relations with that woman" had stood as his official declaration on the subject.
With his lie now exposed and his credibility destroyed, no one could be sure how the public would respond — and if Clinton's fellow Democrats might reach a breaking point.
His immediate response only made matters worse. Hours after testifying before a grand jury, Clinton addressed the nation in prime time.
He was minimally apologetic, acknowledging quickly that "I misled people" before pivoting to an extended diatribe against Starr and his team. Rather than rallying around him, top Democrats lashed out at Clinton for his self-pitying tone. "You can't entirely say this is a private matter," one veteran House Democrat said at the time.
Clinton desperately wanted to move on from the scandal, but he needed his party to agree that the matter had been sufficiently litigated. And for that to happen, Democrats were demanding something from Clinton: an act of unqualified public contrition. Weeks later, before an audience of clergy at a prayer breakfast, Clinton complied. Invoking biblical themes, he spoke of repentance and redemption and the need to turn to God for help.
"I don't think there is a fancy way to say that I have sinned," Clinton said. "It is important to me that everybody who has been hurt know that the sorrow I feel is genuine — first and most important, my family, also my friends, my staff, my Cabinet, Monica Lewinsky and her family, and the American people."
It was exactly what Democrats had been looking for.
Now, they could condemn his actions and point to Clinton's own words as proof that he recognized the gravity of his misconduct — and then they could advance a broader argument that it didn't warrant his removal from office.
"What President Clinton did was wrong," Rep. Nancy Pelosi said. "It is grounds for embarrassment, not for impeachment." This became the framework for the Democratic defense of Clinton, who was impeached on a largely party-line vote in the Republican-led House and then acquitted in the Democratic-controlled Senate.
The contrast with the current moment, with a president who has a demonstrated aversion to contrition facing a serious impeachment drive, is notable.
President Donald Trump is counting on this drama playing out roughly as Clinton's did, with his own party protecting him from a Senate conviction and allowing him to paint impeachment as a partisan act. And it may well end up that simple.
But when it comes to defending him, Trump isn't giving his party much wiggle room.
It is, after all, inarguable that Trump in a July phone conversation asked Ukrainian President Volodymyr Zelenskiy to pursue an investigation of Joe Biden and his son, Hunter. Trump himself insists now that the conversation was "perfect" and that there was nothing improper about it. And Thursday, he went a step farther and publicly called on both the Ukrainian and the Chinese governments to investigate the Bidens. Hours later came the release of text messages that showed U.S. diplomats applying pressure to a top Zelenskiy aide to launch an investigation.
If Republicans are looking for the kind of middle ground Democrats seized to defend Clinton, it's hard to see any here. If Trump were, say, willing to concede that he chose his words poorly with Zelenskiy and unwittingly ventured into territory that he didn't mean to, it surely wouldn't hold off the Democratic impeachment drive, but it would give Republicans an opening to claim that Trump had simply made a mistake, that he'd been rightly called out on it, and that impeachment was therefore unnecessary. They could, like Democrats did with Clinton, assure the public they had issues with his behavior without forcing him from office.
Of course, it doesn't seem in Trump's nature to concede mistakes and issue apologies. And even if it were, the still-emerging facts of this situation could make it difficult for him to frame his conduct as a clumsy, isolated blunder — and not part of a concerted plot to compel an investigation by Ukraine.
With Trump apologizing for nothing, Republicans are left either to endorse his behavior or to criticize it and then face uncomfortable follow-up questions, such as: Since the president doesn't see anything wrong with what he did, why wouldn't he do it again? And since you see what he did as a problem, don't you have some responsibility to stop him? And if you do see it as troubling, then what have you done to show that?
Trump's posture essentially forces any Republican looking to stand with him against impeachment to agree that his actions have been "perfect." Republicans may end up doing just that, especially if Trump's approval with GOP voters remains stratospheric. But he's not making it easy for them.