U.S. citizen went to Uganda to help kids. Now her charity is accused of killing them.
Comments
By Sarah Harman with NBC News World News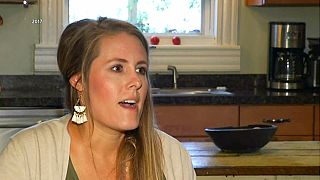 -
Earlier this year, a women's advocacy group in Uganda sued a U.S. missionary, accusing her of operating a nonprofit in Uganda as an unlicensed medical facility, leading "to the death of hundreds of children." Now the missionary is speaking up, saying the organization she founded had more than a 96 percent "success rate" at treating malnourished kids.
"Mistakes were made and lessons were learned, but mistakes and life lessons never resulted in the harm of any individual," the missionary, Renee Bach, 30, told NBC News in an email.
By Bach's own admission to NBC News, 119 children died in the facility between 2010 and December 2018 — a figure also cited in SHC's internal documentation.
Bach, who said she had "lay medical training" and a CPR certificate but no medical degree, said she received her high school diploma via home-schooling.
"I never intentionally put myself in a position to treat children for illnesses, or be involved medically. I was — and I'm not putting this off on anyone else — but I was often thrown into those situations. Not by choice," Bach said.
But according to former volunteers at her charity and documents obtained by NBC News, during the period from 2009-2015, she was closely involved in caring for very sick children — some of whom died in her organization's care.
One former volunteer even alleges in testimony included in a civil lawsuit that Bach lured mothers and children from government hospitals to Serving His Children, her organization in the city of Jinja in eastern Uganda.
Bach, of Bedford, Virginia, ==WAS 20 WHEN SHE == moved to Jinja in 2009 as a Christian missionary and founded Serving His Children, a tax-exempt charity focused on fighting malnutrition.
A city of 72,000 people on the shores of Lake Victoria, Jinja has long been popular with U.S. missionaries and served as the backdrop for the 2013 bestseller, "Kisses From Katie," a nonfiction book about a young American who traveled to Jinja and adopted 13 local children.
Malnutrition is a serious issue in Uganda, with some 2.2 million children under age 5 stunted and another 300,000 too thin for their height, according to the U.S. Agency for International Development. And malnutrition is behind 45 percent of child deaths in the country.
Bach and SHC are now being sued in civil court in Uganda on behalf of two Ugandan women, Gimbo Zubeda and Kakai Annet. In court filings, their attorneys allege that Bach operated an illegal medical facility that led to the deaths of the women's children and "hundreds" of others. The mothers' case has been brought by the Women's Probono Initiative, an advocacy group that provides women with free legal services.
According to court documents filed on the mothers' behalf, the women didn't find out that Bach lacked medical training until after Zubeda's child, Tawali, and Annet's child, Elijah, had died.
Their civil suit, filed with the High Court of Uganda in January, asks for damages and the closure of Serving His Children's facility.
According to the lawsuit, Tawali died on July 16, 2013, and Elijah on Jan. 21, 2018.
In March, Bach filed a response with Jinja High Court, denying the allegations.
She and her lawyer, David Gibbs, say Serving His Children is not responsible for the deaths of Tawali and Elijah.
According to Bach's lawyer, Elijah was turned away from SHC because he was not malnourished.
Not only that, Bach said during a telephone interview, the program referred his mother to the appropriate facility but she decided not to go.
"It was her choice," Bach. "She chose to go home."
"I imagine that as a parent, that she might feel some regret and that she's looking for someone to blame. I would too," she said, adding that she was very sorry for the loss of Annet's child.
"But I don't really have too much more to say to her, because we weren't involved," Bach said.
As for Zubeda's son, Tawali, Bach said she was not in Uganda at the time he was treated.
"I never met him, I never met his mother. But I can say with confidence my heart breaks for her," Bach said.
The group No White Saviors runs an Instagram account with 194,000 followers and tries to raise awareness about the negative impact many "mainly white" aid workers have had on "black and brown communities in the name of charity or mission work." The activists have posted frequently about Bach's case, citing the allegations as an example of the "white savior" complex — Westerners who move to poor countries to deliver aid even when they're unqualified for the task.
In a written statement, Gibbs said that "reputational terrorists" were "attacking Renee Bach and Serving His Children with false allegations using the platform of social media."
But former volunteers painted a different picture — one in which Bach sought an active role in treating sick children.
Ashley Laverty of Ottawa, Canada, said she began volunteering with Serving His Children in early 2010 after meeting Bach at a local church in Jinja.
At that time, Laverty says, the outreach was operated out of Bach's home and consisted of serving lunch to local children twice a week.
But over time, according to Laverty, SHC's focus shifted to providing medical care to seriously malnourished children — despite the fact that Bach had no medical training and the facility was not licensed to provide medical treatment.
"She started getting referrals from friends, about children suffering from malnutrition, so she would take them into their home and feed them a high-caloric milk called F-75," Laverty said by phone from her home in Jinja.
As Bach garnered positive attention on social media, Laverty says, she began recruiting patients — going into the government-run children's hospital in Jinja and "looking for the most severely sickly, dying children she could find, and convincing their mothers to run away with them."
"She would meet them in the parking lot and take them to her center," Laverty says, adding she eventually quit volunteering and ended her friendship with Bach.
Bach denied that she had ever recruited patients and said she only took in patients at the request of the local hospital.
However, SHC was not registered as a medical facility at this time. Documentation obtained by NBC News shows SHC registered locally as a community-based organization in 2010, and as an NGO in 2011. The NGO registration granted it permission to "carry out its activities in the fields of promoting evangelism, provide welfare for the needy, empower families and the needy with sustainable means of income."
Bach said she believed her organization's mission was broad enough to encompass both health care and education, and she was never advised to alter its registration.
Bach's lawyer provided documentation showing the organization received an occupational health license in March 2014.
Laverty was not the only volunteer to voice concerns over Bach's involvement in patient care.
Jackie Kramlich, a registered nurse from Jamestown, North Dakota, traveled to Uganda in August 2011 with her husband to volunteer with SHC. Kramlich, at the time a recent college graduate, says what she found at SHC shocked her. The organization was still run out of Bach's home at that point, and Kramlich described a lack of basic hygiene and a disregard for hand sanitizing.
Both Laverty and Kramlich also said that it was easy for Bach to buy medical supplies — including drugs that would be prescription-only in the United States — because the organization appeared to have a steady flow of cash. SHC's tax documents seen by NBC News show hundreds of thousands of dollars flowing through the charity.
At the time, Kramlich says, there was one nurse on staff but no doctor.
"I knew she was not trained, but she had this presence about her that you kind of just believed that she knew," Kramlich said of Bach.
Kramlich says her concerns grew as she realized Bach was not aware of refeeding syndrome — an electrolyte imbalance that occurs when malnourished children are offered food and drink too quickly, and which can be fatal if left untreated. Kramlich also says she witnessed Bach perform medical procedures herself, including measuring medication, starting IVs, and performing blood transfusions.
The final straw, Kramlich says, was when she witnessed a young girl named Patricia go into what she described as anaphylactic shock after Bach gave her a blood transfusion.
"I was horrified," she said. "I just thought, 'This is not about helping children, this is about you needing to be intimately involved in this for your own benefit,'" Kramlich said by telephone.
Neither former volunteer had more information about Patricia, and NBC News was not able to contact her family.
Kramlich says she left SHC after just three and a half months, in November 2011, because of Bach's alleged behavior. Both Laverty and Kramlich provided testimony in the lawsuit being brought by Women's Probono Initiative.
Bach disputed Kramlich's characterizations.
"Patricia did go into anaphylactic shock, yes. That happens in Uganda. It's not uncommon. People get HIV from blood transfusions," Bach said.
She said she did not perform the blood transfusion herself but did drive Patricia to the hospital afterwards.
Bach also said she gave oxygen and started IVs, actions she said she sometimes felt "forced" into.
"I would get calls from the government hospital to come and help them start an IV, because all their staff couldn't for whatever reason," she said. "The professionals who taught me, both in Uganda and in the United States, said it was a skill that I was good at."
Gibbs, Bach's attorney, said in a statement that SHC employed Ugandan nurses and doctors whom Bach would sometimes help.
"She never represented herself as a doctor or nurse, but she made nutritional care provided by qualified medical professionals more accessible for families in rural areas," Gibbs says.
The next hearing in the civil suit is scheduled in Jinja for Jan. 21, 2020. It wasn't clear why the next hearing had been delayed.
Bach, who has since returned to the U.S., told NBC she would not attend.
"Unless the narrative changes, I do not plan to be there," Bach says, adding that the decision was based on safety concerns and the advice of her legal counsel.