Moon mission memorabilia up for auction amid anniversary celebrations
Comments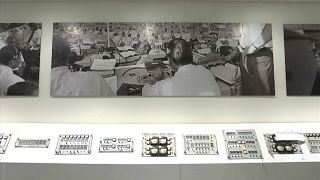 Artefacts from the historic mission to put men on the moon are going up for auction amid celebrations to mark its 50th anniversary.
Christie's New York is holding an auction called "One Giant Leap: Celebrating Space Exploration 50 Years After Apollo 11".
Christina Geiger, head of manuscripts, said the highlight of the sale was a procedures manual used by Buzz Aldrin and Neil Armstrong as they landed.
It is expected to fetch up to €8 million at the auction on July 18.
Across town at Sotheby's, a variety of material from the Mercury, Gemini and Apollo missions will be on sale.
The NASA videotape recordings of the first trip to the moon are expected to reach up to €1.7 million.
Also on sale are a pair of mission control panels used on space missions. These panels are expected to sell for between €180,000 and €260,000
Sotheby's auction will take place on July 20th, the day of the 50th-anniversary celebrations.