'Tomb of the angel' search for missing teen hits dead end in Vatican
Comments
By Claudio Lavanga and Saphora Smith with NBC News World News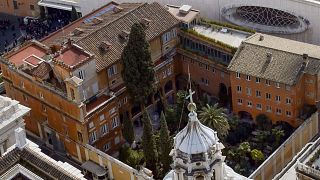 -
ROME — Forensic experts searching two 19th century tombsin the heart of the Vatican in hopes of solving the mystery of a teenage girl who vanished more than 30 years ago came up empty handed Thursday.
"They found nothing, not even the remains of those who were meant to officially be buried there," said the missing girl's brother, Pietro Orlandi. "I am relieved by it. They dug under one of the tombs and found a room underneath completely empty. In the other one they found a sarcophagus, also empty"
Emanuela Orlandi, the daughter of a Vatican bank employee, was 15 when she disappeared after leaving a music lesson in Rome in 1983. The teenager's family believe her body could be buried in a tomb in a tiny cemetery inside the Vatican, after they received an anonymous tip last year.
"'If you want to find Emanuela, search where the angel looks," a tipster wrote in an unsigned letter posted alongside a picture of a statue of an angel in the Teutonic Cemetery, the family's lawyer, Laura Sgrò, told NBC News.
Shortly before 8.15 (2.15 a.m. ET) on Thursday morning, the rector of the Teutonic College recited a prayer in front of the "tomb of the angel" and an adjoining tomb, Alessandro Gisotti, the director of the Vatican press office said in a statement. A 15-person team then began excavating the tombs of Princess Sophie von Hohenlohe and Princess Charlotte Frederica of Mecklenburg, who died in 1836 and 1840, respectively.
The Orlandi family had asked for the tomb under the statue of an angel holding a "rest in peace sign" to be opened, but the Vatican decided a second nearby tomb should also be excavated to "avoid misunderstandings," Gisotti said. He said he could not predict how long the operation would take.
This is not the first time a tomb has been opened in the mysterious case that has gripped Italy for more than three decades.
In 2005, an anonymous tipster claimed Orlandi's body was buried in the tomb of Enrico de Pedis, a criminal gangster who operated in Rome in the 1970s and 1980s, according to Giancarlo Capaldo, a state prosecutor who worked on the case between 2012 and 2016. In 2012 his tomb was finally opened, but Orlandi's remains were not found.
Pietro Orlandi earlier told reporters that after years of the Vatican not cooperating it appeared the Holy See was beginning to accept the idea that it may hold some responsibility for what happened. If his sister's remains were found, Orlandi said he would expect the Vatican to open up an investigation into the murder and the concealment of the corpse.
"Now it's not just us as a family, it seems also the Vatican wants to find out the truth about what happened," he said.
Claudio Lavanga reported from Rome; Saphora Smith from London.