California desert city takes stock after back-to-back earthquakes
Comments
By Phil Helsel with NBC News U.S. News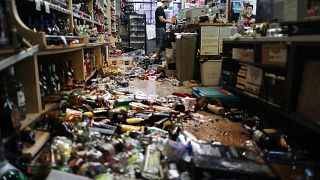 Copyright

Mario Tama Getty Images

-
RIDGECREST, Calif. — Three-year-old River Webb calls them "boom-booms."
That's one way to describe a pair of powerful earthquakes that rocked Southern California over the holiday weekend, centered in this Mojave Desert city of 28,000 situated between Las Vegas and Los Angeles.
A magnitude 6.4 hit on the Fourth of July followed by a 7.1 the next day, making for the strongest earthquakes to hit Southern California in at least two decades. They were followed by a string of aftershocks that rumbled throughout the region.
"She was freaked out," her mother, Jessica Webb, who was putting River and her 1-year-old brother, Julian, to bed when Friday's quake shook. "We just kind of scooped them up and ran."
The family spent Friday night outside in a tent that Webb and her husband, Nathan Webb, set up in the front yard as far away as possible from anything that could fall, and they ran an extension cord from their house to power electronics.
Because they were sleeping on the ground, they felt every aftershock.
"She said, Let's wait for the boom-booms to go down'" before going back inside the house, Nathan Webb said of River.
He said when Friday's earthquake hit, he struggled to reach the front door of their home.
"It's like trying to run across a trampoline," he said.
Nothing was obviously amiss Saturday in Ridgecrest, which is flanked by shrub-covered hills. But many businesses were closed that would usually be open, like Starbucks, Burger King and Taco Bell. The doors of a Rite Aid pharmacy were cordoned off by yellow caution tape, although the drive-through was open for prescriptions.
Ridgecrest officials said only minor injuries were reported, and there were no collapsed buildings or known deaths. One resident staying at a Red Cross shelter described Ridgecrest as a "ghost town," and others wondered and worried whether another strong earthquake was coming.
Gov. Gavin Newsom declared a state of emergency and said Saturday he had spoken with President Donald Trump, who promised to help with rebuilding efforts.
In nearby Trona, a town of some 1,600 west of Ridgecrest in the Searles Valley, the water supply was shut down by the earthquakes. On Saturday, workers loaded cases of bottled water at a distribution center at Trona High School, and the Red Cross was delivering water to neighborhoods.
Brian Tuttle, 65, who lives in the Trona area, said the 6.4-magnitude quake and a strong aftershock did not bother him much. But Friday night's 7.1 was "the most intense experience I've ever had."
He and his wife held on to each other in their front yard during the shaking , the refrigerator door in their kitchen opened and his heavy Harley-Davidson motorcycle was knocked down. His dog also ran away but was he found about an hour later.
"Man, did I have a mess to clean," he said. "I have one plate, one dinner plate left."
His newly renovated home was not damaged, but other residents were not so lucky. "Everybody that had a chimney lost their chimney," Tuttle said.
He said he was looking forward to having the water back on and taking a shower.
"We have electricity and everybody's healthy and happy," Tuttle said. "So I'm thankful."
As Tuttle was speaking, he paused. The ground was shaking again.
Back in Ridgecrest, Christopher Thomas, 51, was cleaning up broken tiles that had fallen from the facade of a business plaza his father-in-law owns and inspecting cracks in the building.
"Aftershocks, I'm like I can roll with those," Thomas said. "But when it goes a few hours" without a major aftershock "that's when I get nervous."
The 7.1-magnitude earthquake came after Thomas and his wife, Adriana Thomas, thought the worst was over after Thursday's temblor.
"Nerve-wracking," Adriana Thomas said. "You think it's going to just be an aftershock, and you're experiencing another big one."
April Hamlin, 47, who was born and raised in Ridgecrest, was at the Red Cross shelter at the Kerr McGee Community Center on Saturday with her two daughters, Zarah, 15, Safiya, 14, and son Zak, 15, as well as their St. Bernard, Duchess, who was stretched out on a blanket and pillow.
They went to the shelter because their power went out after the first quake, and Zarah has a rare medical condition that prevents her from tolerating heat well, Hamlin said. Temperatures soared to over 100 degrees Saturday. They returned home because their power was restored, but then the second earthquake hit.
"It got trashed," Hamlin said of their house. "Are we being prepared for the big one? That's what I'm wondering."
Hamlin and her family spent Friday night at the shelter and planned to stay until at least Monday, when building inspectors will check out their home.
"We'll be all right. We're going to be fine. We're not in this alone," she said, adding that her church and community are supporting them and others affected by the earthquakes.
Steven Morgan, past district governor of the Lions Club of Ridgecrest, told Red Cross officials Saturday that they had collected $10,000 to help those in need.
"We're just a piece of everyone trying to do their part," Morgan said. "Us desert folks, this is what we do."