Netherlands through to its first ever Women's World Cup final with 1-0 victory over Sweden
Comments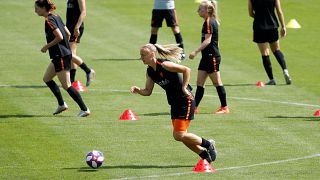 Copyright

REUTERS/Bernadett Szabo

-
The Netherlands booked its spot into its first ever Women's World Cup final on Wednesday evening with a laborious 1-0 over Sweden.
They will meet reigning champion USA on Sunday.
Neither side managed to create serious opportunities during the first 45 minutes. Instead, the action really started kicking off in the second half with the two sides displaying some impressive defensive games.
Still, despite several close calls the game was often laborious and lacking in the intensity displayed the night before in the first semi-final clash between the USA and England.
The two goalkeepers, Sari van Veenendaal from the Netherlands and Sweden's Hadvig Lindahl, proved their mettle several times by keeping cool under pressure to maintain the status quo.
As the clock ticked closer to the 90-minute mark, Sweden started to take control of the game while the Dutch players appeared to flag and a free-kick awarded at the 87th minute to Sweden seemed likely to tip the scale.
Instead, Magdalen Eriksson decided to go it alone and the ball skims the goal post to land in the netting and the game went into extra time — a first for a Women's World Cup semi-final.
The Dutch team, which currently holds the European title, come back re-energised and Jackie Groenen seizes an opening in the opposition's defence at the 99th minute to deliver a kick past Sweden's Hadvig Lindahl to score her first goal of the competition and open the score.
Sweden, who knocked out heavyweights Germany and Canada earlier in the competition to play their fourth World Cup semi-final — a tally only beaten by Germany (five), and the United States (8) — will meet England on Saturday for the third place.
The Netherlands will meet the US on Sunday, who secured their spot in the final on Tuesday with a 2-1 victory over England's Lionesses.
Want more news?