Rapper A$AP Rocky arrested on suspicion of assault in Sweden
Comments
By Caroline Radnofsky with NBC News World News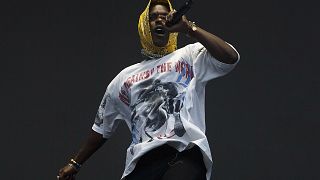 -
Rapper A$AP Rocky has been accused of assault and arrested in Stockholm, Swedish officials said on Wednesday.
The two-time Grammy nominee, born Rakim Mayers in Harlem, New York, was in Sweden to headline Smash x Stadion, a two-day hip-hop festival that began on Tuesday in the country's capital.
The incident took place on Sunday, a press officer for the Swedish Prosecution Authority told NBC News. Mayers was arrested for assault on Wednesday at 1 a.m. (Tuesday 7 p.m. EST), along with three others, the authority added in a statement on its website.
The hip hop artist, producer and music video director was nominated for a 2013 Grammy for his song 'F**kin' Problems', featuring Drake, 2 Chainz and Kendrick Lamar. Mayers' arrest came just hours after his performance at the Smash festival on Tuesday night.
The rapper posted several videos on his Instagram account on Tuesday night giving his version of events. In one, Mayers and members of his entourage are seen arguing with two men on the street, telling the men to stop following the musician and his entourage.
In another clip, a man whom Mayers identified as his bodyguard, squares off with one of the men. The bodyguard is seen blocking the man's blows, followed by the sound of plastic breaking as the man appears to hit the bodyguard over the head with a pair of headphones.
Mayers is then seen telling one of the men, "Listen, we don't want to fight y'all. We not trying to go to jail."
View this post on InstagramA post shared by PRETTY FLACKO (@asaprocky) on Jul 2, 2019 at 8:06am PDT
Mayers is currently in police custody, and will be seen by a judge within three days, the Swedish Prosecution Authority's press officer said.
A$AP Rocky was due to perform at Kadetten Festival in Oslo, Norway, on Wednesday, according to the festival's website.
A representative for Mayers did not immediately respond to NBC's request for comment.