Warren, other candidates at debate rip 'rigged' Trump economy for boosting the wealthy
Comments
By Alex Seitz-Wald with NBC News Politics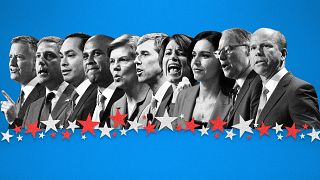 -
Copyright

Chelsea Stahl NBC News
MIAMI -- At the first debate of the 2020 Democratic presidential primary, Sen. Elizabeth Warren, D-Mass., said "corruption, plain and simple" is preventing millions of Americans from benefiting from the robust economy.
Pressed about her desire to enact sweeping economic reforms, such as a new tax on wealth, Warren said it's necessary even though the economy is growing under President Donald Trump because, she said, the status quo is helping wealthy and corporations, but not average people -- "drug companies, but not people who need to get their prescription filled."
Watch the Democratic debate here and follow our live blog and fact checks here.
Other candidates agreed the economy is nor working for many Americans. Sen. Amy Klobuchar, D-Minn., said Trump is "gloating" in the White House, while former Texas Rep. Beto O'Rourke switched into Spanish to speak about inequities and then turned to English to slam the "rigged" economy that he said helps the wealthy and corporations.
The debate is the first chance many Americans will get to see the largest and most diverse presidential primary field in history.
Warren is the biggest name on stage Wednesday thanks to a recent surge in polls that revived her campaign after initial stumbles. Also centerstage is O'Rourke, whose campaign has been headed in the opposite trajectory of late.
Alongside them are Sens. Cory Booker, D-N.J., and Amy Klobuchar, D-Minn., who have yet to gain the traction many expected they would.
And on the wings are lesser-known candidates eager for a breakout moment.
There's former Housing Secretary Julián Castro, the only Latino in the field who has struggled to attract attention so far; Washington Gov. Jay Inslee, who is running a campaign focused almost exclusively on fighting climate change; Rep. Tulsi Gabbard, D-Hawaii, a vocal critic of American foreign policy; Rep. Tim Ryan, D-Ohio, who has touted his ability to win Rust Belt voters; New York City Mayor Bill de Blasio, who says he has made progressive accomplishments others only talk about; and former Maryland Rep. John Delaney, a moderate who has sharply criticized Sanders and Warren.
The debate is moderated by Savannah Guthrie of "Today," Lester Holt of "Nightly News," Jose Diaz-Balart of Telemundo, Rachel Maddow of MSNBC and Chuck Todd of "Meet the Press."
Twenty of the 25 declared candidates qualified for the Miami debate, which will continue Thursday night with another slate of 10 contenders, including former Vice President Joe Biden, Sen. Bernie Sanders, I-Vt., and Mayor Pete Buttigieg of South Bend, Indiana.