Trump floats delaying 2020 census for citizenship question
Comments
By David K. Li with NBC News Politics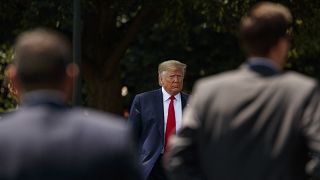 Copyright

Carolyn Kaster AP file

-
President Donald Trump said Thursday that he wants to delay the U.S. Census following a Supreme Court ruling that the 2020 census form cannot include a question about citizenship.
The court's decision Thursday showed it was deeply fractured on the issue. It ruled that while the government has the right to ask a citizenship question, it needs to properly justify the change in Census Bureau practice.
"Seems totally ridiculous that our government, and indeed Country, cannot ask a basic question of Citizenship in a very expensive, detailed and important Census, in this case for 2020," the president tweeted after the decision.
"I have asked the lawyers if they can delay the Census, no matter how long, until the United States Supreme Court is given additional information from which it can make a final and decisive decision on this very critical matter," Trump wrote in two tweets on Thursday afternoon.
"Can anyone really believe that as a great Country, we are not able the ask whether or not someone is a Citizen. Only in America!"
Chief Justice John Roberts joined the court's four liberals in the 5-4 ruling.
Roberts, who has increasingly become the court's swing vote, strongly hinted that he believed the Trump administration's stated intention for the citizenship question "seems to have been contrived" and was "more of a distraction."
"We are presented, in other words, with an explanation for agency action that is incongruent with what the record reveals about the agency's priorities and decision-making process," Roberts wrote.
This is a breaking story. Check back for updates.