Prominent Virginia doctor and his tour guide murdered in Belize
Comments
By Jareen Imam and David K. Li and Abigail Williams with NBC News World News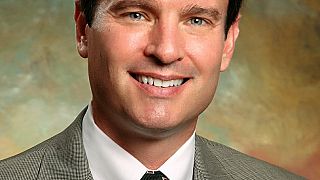 Copyright

Carilion Clinic

-
A prominent Virginia physician and his tour guide were murdered while the doctor was on vacation in Belize over the weekend, officials said.
Dr. Gary Swank was a 53-year-old cardiologist from the Carilion Clinic in Roanoke who also taught at Virginia Tech's medical school, according to the hospital.
"Today we learned the tragic news that Dr. Gary Swank, interventional cardiologist, medical director of Carilion Clinic's Cardiac Catheterization Lab and an associate professor of internal medicine at the Virginia Tech Carilion School of Medicine, was found murdered, along with his local tour guide," according to a hospital statement issued on Monday.
"We are heartbroken at his loss. Dr. Swank was a well-respected and well-loved colleague who, each and every day, embodied the values that we hold dear. His absence leaves a void in our team and in our community. Our thoughts, prayers and attention are now focused on helping his family navigate this difficult time."
Swank, an avid fly fisherman, was traveling with his wife and school-age children, neighbors told NBC affiliate WSLS in Roanoke.
"I am shocked and saddened by the death of Dr. Gary P. Swank. I ask all Virginians to remember Dr. Swank's wife and children as they deal with this unthinkable tragedy," U.S. Rep. Ben Cline, R-Va., the doctor's congressman, said in a statement. "My office stands ready to assist Dr. Swank's family in the coming days."
The State Department also confirmed Swank's death but offered no additional details.
Police told the Reporter newspaper in Belize that both Swank and his guide, Mario Graniel, were shot to death.
Swank's sudden death stunned co-workers and patients.
"He saved my life and every time I went to his office he was a very knowledgeable, patient and caring person," patient Teresa Hodges told WSLS. "He's part of my life."