Mount Rainier climbers rescued after being stranded three days
Comments
By Doha Madani with NBC News U.S. News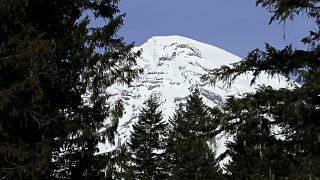 -
Copyright

Ted S. Warren AP file
Four climbers have been rescued after spending three days stranded at about 13,500 feet on the north side of Mount Rainier in Washington state, the National Park Service said Thursday.
The men were spotted signalling for help Monday afternoon by a reconnaissance helicopter. They were unable to continue the climb up the mountain, located about 75 miles southeast of Seattle, because of high winds that blew away or destroyed their tent and other equipment. The difficult conditions also prevented a rescue by helicopter.
At about 9:15 a.m. local time on Thursday, a helicopter was finally able to land in the saddle between Liberty Cap and Columbia Crest during a pocket of good weather, according to the park service. By 10:15 a.m., the climbers were off the mountain.
Rangers were able to confirm the identities of the four men as Yevgeniy Krasnitskiy of Oregon; Ruslan Khasbulatov, of New Jersey; Vasily Aushev, of New York; and Constantine Toporov, of New York.
All four were found alive, although suffering from exposure, and transported to local hospitals for treatment, the National Park Service said.
They began their ascent from White River Campground on Friday, and Mount Rainier's Communications Center received a 911 call on Monday reporting that the climbers had been stranded.
Efforts to reach the men by air throughout the week were thwarted because of high winds, the park service said. Rangers prepared numerous contingency plans, including both air and ground rescue options, to implement Thursday if the opportunities arose.
Even an Army Chinook helicopter from Joint Base Lewis-McChord was unable to reach the men twice on Tuesday, first because of cloud cover and then because of the wind, it said Wednesday.
The challenging, technically dangerous Liberty Ridge route is the same one where Arleigh William Dean, 45, of Alaska was killed and two other hikers were injured when they were caught in a rockfall on May 29. Three other hikers were uninjured.