Theresa May's new Brexit plan draws scepticism across political spectrum
Comments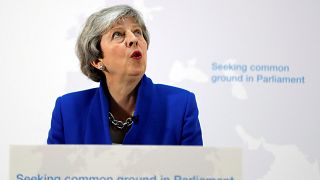 British PM Theresa May has offered MPs the chance to vote for a second referendum if MPs back her Brexit deal next month — a move she described as "one last chance" for the troubled plan. 
But there were early signs that the move would not be enough to succeed.
You can watch her speech in the video player, above.
May said if parliament approves her EU divorce agreement, MPs could, within that legislation, vote to have a confirmatory referendum.
Other changes she outlined included:
a legal obligation to find alternatives to the Irish backstop by December 2020
no changes to environmental protections the UK enjoys as a member of the European Union
a new bill to protect workers' rights
May was announcing modifications to the withdrawal agreement after weeks of talks with the UK's main opposition party, Labour.
The discussions broke down without a deal but May will hope her tweaks will be enough to persuade MPs to get over the line.
MPs are set to again vote on her Brexit deal on the week beginning Monday, June 3. They have rejected it three times already this year.
What has the reaction been?
Despite the most significant policy shift in weeks of political frustration, it was soon clear that many of May's most vocal critics were unimpressed.
Brexiters
Prominent pro-Brexit MP Jacob Rees-Mogg said May's package of compromises was "worse than before" while former Foreign Secretary Boris Johnson said he would also be voting against it. "We can and must do better," he said.
May's former Brexit Secretary, Dominic Raab, said he has "listened carefully" but "cannot support legislation that would be the vehicle for a second referendum."
"Either option would frustrate rather than deliver Brexit - and break our clear manifesto promises," he said.
Democratic Unionist Party
"All the attention in Westminster is focused on what comes after the prime minister, that's one of the problems she has now in terms of delivering this kind of hodgepodge set of proposals," Nigel Dodds of the Democratic Unionist Party told Northern Irish broadcaster UTV, referring to her exit deal. "Everybody is saying why should we vote for this when we don't know who the next prime minister is going to be."
Labour Party
Labour leader Jeremy Corbyn said his party could not vote for the Withdrawal Bill, describing May's new offer as "largely a rehash of the government's position" in talks with the opposition that broke down last week.
"It's a gimmick from a desperate PM who has run out of road and refuses to compromise and for three years has sidelined parliament and the country," Labour MP Seema Malhotra said on Tuesday.