Spanish socialists may need support of separatists to form government
Comments
By Philip Pangalos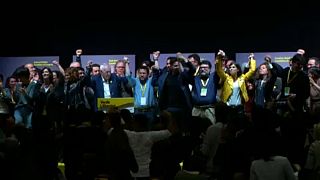 The support of Spanish separatist parties may be needed in order for Pedro Sánchez's socialists to be able to form a majority government after Sunday's general election.
A high turnout helped the Republican Left of Catalonia to win elections in the Catalan territories and to gain 15 seats in Spain's parliament, something which could be key in trying to put a possible deal together by the political powers of the left and the nationalist parties.
After the victory, Republican Left's Gabriel Rufián said: "We are not totally satisfied. The Republican Left of Catalonia was not born to be satisfied. And today, here, an electoral cycle is just beginning. This is the first of many victories that will come."
Nine Catalan separatist leaders who are in prison, among them the leader of the Republican Left of Catalonia, Oriol Junqueras, in a supreme court trial over the so-called procedure for the independence of Catalonia, are on everyone's minds.
Their political and legal future remain uncertain.
Euronews' correspondent in Barcelona gives us the political climate: "The electoral result of the Republican Left of Catalonia has multiple implications, but one very significant one. For the first time, a party in favour of independence has won general elections in Catalonia. A clear message for the future Spanish government, which must also find a solution to the problem of Catalonia," he said.