Madagascar's malnourished children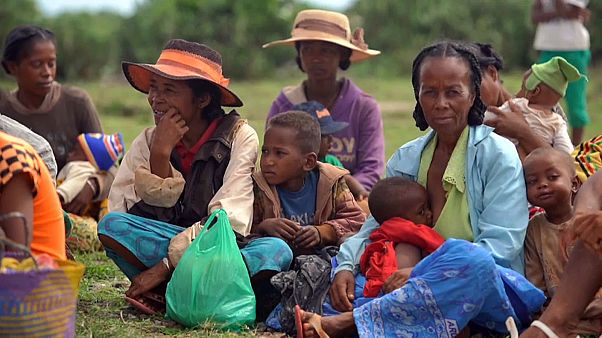 As part of a report on the severe drought blighting Madagascar, Aid-Zone spoke to health workers and locals in the south of the country about the daily challenges they face.
Once a week dozens of mothers gather at the Nikoly health centre carrying their babies in need of assistance. A nurse is here to treat severely malnourished children. The drought has left its mark on the population.
"Chronic food insecurity"
"Here in the south of Madagascar there is really chronic food insecurity that has lasted for several years," says Marie-Claude Désilets, from UNICEF_. She adds: "Each season we see peaks of food insecurity that have become more and more serious depending on the year. Now these peaks have been very intense for several years in a row. This means that households no longer have the capacity to withstand any shocks. People have sold their goods, their cattle, their land. Some have even sold their cooking pans. So we have to deal with a very vulnerable population that needs support to get by and manage in their daily lives."_
"When I can't find anything, he doesn't eat"
UNICEF, financed by EU Humanitarian Aid, supports all the health centres located in the eight southern districts of Madagascar, the ones most hit by drought.
"We have no money to buy food. I give my baby anything I can find, but when I can't find anything, he doesn't eat," insists one mother while holding her son.
Acutely malnourished children
UNICEF supports around 14,000 children in Southern Madagascar, out of around 25,000 who are in need.
"We offer ready-to-eat therapeutic food. It comes in little bags that need no preparation. We also give antibiotics. Children come here every week for eight weeks. They receive the treatment and diagnosis in order to be sure that there are no complications." Désilets says.