Europe briefing: Vatican sex abuse summit; Brussels climate march; and Brexit latest
Comments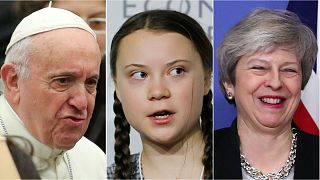 1) Vatican sex-abuse summit
Pope Francis opened a historic sex-abuse summit by warning bishops that the faithful are looking for "concrete and efficient measures" and not just condemnation.
The Vatican is holding a four-day summit with its senior bishops to discuss worldwide sexual abuse within the Catholic Church.
READ MORE: Pope leads four-day summit into sexual abuse in Catholic Church
2) Brussels youth climate march
Swedish 16-year-old climate activist Greta Thunberg was in Brussels on Thursday for a protest about global warming.
It's part of a burgeoning movement that has seen schoolchildren skip lessons to demonstrate over climate change.
3) Brexit breakaways and breakthroughs
UK PM Theresa May did not announce any breakthrough in a bid to get assurances from EU chief Jean Claude Juncker over her Brexit deal.
It came as three of her fellow Conservative MPs quit the party over its handling of the divorce from Brussels.
Speaking at a plenary session of the European Economic and Social Committee (EESC), Juncker said on Thursday he was not "very optimistic" about the UK leaving the EU with a deal.
READ MORE: No breakthrough in Brexit talks over Irish backstop
4) Big rally expected in Slovakia for slain journalist Jan Kuciak
Thousands of people in Slovakia are expected to rally on the anniversary of the killing of investigative reporter Jan Kuciak and his fiancee Martina Kusnírova. 
The murder, which took place on February 21, 2018, rocked the country, stoking anger over public corruption and sparking the biggest street protests since the fall of communism.
Kuciak and Kušnírová were shot dead at their home near Slovakia's capital Bratislava.
READ MORE: Jan Kuciak murder: how has journalist's slaying changed Slovakia?
5) Catalonia protesters burn tyres and block highways over separatist trial
Catalan activist groups burned tyres and blocked highways near Girona, Spain, as part of protests against the trial of 12 separatist political leaders for their part in the failed independence attempt in Catalonia.