Watch: How can we better manage migration? | Davos 2019
Comments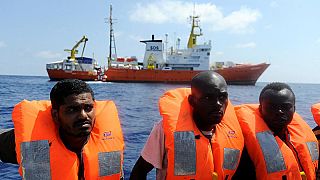 Political and business leaders at the World Economic Forum in Davos on Thursday turned their attention to ways of better managing migration flows.
With migration only set to grow as issues such as inequality, conflict and climate change drive people to seek new lives elsewhere, a Davos panel asked how we can move "from crisis response to proactive management."
The session, moderated by Euronews correspondent Isabelle Kumar, looked at ways of alleviating the causes of migration, helping with integration and economic opportunities, and shifting public and political discourses.
"No country alone will be able to handle the challenges of current migratory flows," said Portuguese politician Antonio Manuel Vitorino.
Henry Schein CEO Stanley M. Bergman, meanwhile, said "business cannot ignore the immigration issue".
Moldova's foreign minister Tudor Ulianovschi agreed.
"We need to work in a more organised holistic fashion with the business sector," he said.
Click on the player above to watch the discussion live.