Foldable TV screens, connected kitchens and AI-driven debating - key innovations at CES Las Vegas
Comments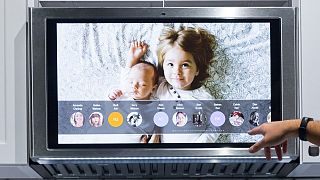 New ways of displaying images, staying connected and organizing home and work are being launched at CES 2019 in Las Vegas, the annual consumer electronics show. CES draws together over 4,500 companies and 180,000 attendees from around the world for a celebration of technology and innovation.
MicroLEDs and roll-up TVs
CES is the show that first brought the world the VHS, CD, DVD and OLED, and for 2019 fans of home entertainment systems have plenty to look at, including spellbinding 8K televisions with their ultra-real images.
Samsung is creating a buzz with an emerging TV technology called MicroLED, which offers a mix of scalability and multi-screen viewing never seen in this kind of product before. MicroLEDs are small versions of the screens you see at outdoor stadiums, shrunk to consumer-size for the first time. They offer a high contrast picture and the individual LEDs can be replaced should they stop working. The South Korean firm also surprised everyone by announcing it would offer iTunes services on its connected TVs, showing it can be 'frenemies' with Apple when the market demands.
Another high-end TV technology comes from fellow South Korean firm LG, which has just announced at CES that it will sell a consumer version of its 65-inch 4K foldable television in the US later this year. The device uses OLED technology and will literally un-roll from its long, rectangular base, and then roll-down at your demand. There's no detail on pricing yet, but expect it to be found in the more expensive aisle of your favourite electronics store.
Foldability is coming to the tablet/smartphone market, too, with Chinese firm Royole claiming the crown at CES as first to launch a screen that can be folded in half. Known as the FlexPai, it retails at around 1,200 euros for a 128GB developer model. Foldable smartphones are rumoured to be due for launch from many other firms this year, helped by the advance of foldable lithium-ion battery technology.
Voice-activation everywhere
Fingers on keyboards may soon be a thing of the past. Many of the devices at CES have incorporated voice-activation technology, driving a trend towards a 'smart home' in which the occupants talk to their lighting and heating systems, rather than fiddling with buttons.
The shift is fuelled by the improvement in voice-recognition technology in the past five years, and consumer acceptance of systems such as Google's Assistant, and Amazon's Alexa.
Google - which has tripled the size of its stand at CES this year - says that its voice-recognition technology now works with 1,000 different brands and 10,000 devices.
GE Appliances is one example integrating such innovations into the kitchen, as it launches something called the Kitchen Hub. The device has many roles - it's a kitchen extractor fan, so it's installed above the hob, and it integrates a touch screen with Google Assistant voice command and a series of cameras allowing home chefs to watch cooking videos, chat with family and take photos of the food they're preparing.
Other companies are also showing off a voice-activated rubbish bin - or trash can if you prefer - and a voice-activated toilet. Surely there must be a market for those, right?
AI driving discussion
CES is full of humans discussing the relative merits of different ideas, and this year IBM's Watson AI system is getting into the spirit of things, too. The IT giant is presenting something called Project Debater, in which a computer and a human have a formal debate, with opening remarks of four minutes, a rebuttal, and a two-minute closing statement.
The computer system doesn't know the subject of the debate in advance, and instead uses its artificial intelligence to construct what IBM calls a 'persuasive narrative based on available data'. It digs for facts through hundreds of millions of articles in newspapers and magazines, and builds arguments around them. The subjects chosen are issues for which there is considered to be no prevailing right or wrong answer. The system is being given an extra CES twist in that the AI will take information from the crowd, integrating their statements into its argument.
The ultimate goal of the Watson team is to create a system which can help us all to have more informed, impartial and meaningful conversations on controversial topics. The first debating motion at CES will be: "Gambling should be banned". A perfect topic given the location, one might argue.
We'll be following news from CES this week on Euronews. The show is owned and produced by the Consumer Technology Association, a standards and trade organization representing more than 2,200 consumer technology companies in the United States.