Raw Politics: Is Romania ready for the EU Presidency?
Comments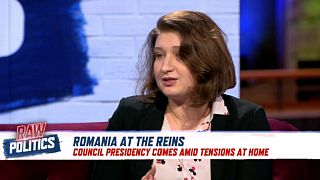 Romania took over the six-month presidency of the European Union last week under a cloud of uncertainty after criticism emerged that the eastern European country was not up to the task.
Watch above as a panel on Euronews' Raw Politics programme discusses what it means.
For Maria Udrescu, a Romanian journalist for La Libre Belgique, on a technical standpoint, her native country is "as ready as other countries could be" but the "problem is on a political level".
"It's worrying because Romania, as you can see, has been drifting towards the Orban club (...). They (politicians) have adopted a very populist, euroskeptic rhetoric" which is hurting the country's image on the European scale, she added.
Romanian MEP Siegfried Muresam, from the Partudul National Liberal, agreed. 
"Without any doubt the people of Romania are ready (...) We have seen the people of Romania, for the past two years, go to the streets to defend European values, to defend a strong independent judiciary and they have done this with the flag of the EU in their hands," he said.
The EU Presidency, he added, will put the political elite under the EU's microscope.
"Europe is looking at Romania. Europe is looking at Romania more intensively than at any time since the fall of communism," he added.