Romania to take EU presidency role
Comments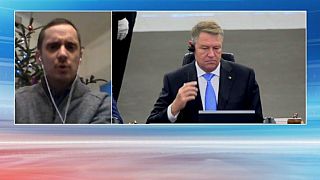 New Year's Day will see a new role for Romania as it takes over the EU's rotating presidency for the first time.
With EU parliament elections, Brexit and a migration crisis at hand, Romania will help set the agenda for what is expected to be a pivotal moment for the bloc.
Brussels however, has raised doubts about its capacity to lead the block.
European Commission President Jean-Claude Juncker says he doubts the Romania government can overcome its own internal problems to properly lead the bloc.
"The government of Bucharest has not yet fully understood what it means to preside over EU countries," he said.
"Prudent action also requires a willingness to listen to others and a willingness to put one's own concerns in the background. I have some doubts about this. "
Anti-corruption activist Laura Stefan, from Expert Forum, agrees.
"Romanian leaders are really obsessed about their own legal problems, about not going to jail," she said.
"We have seen a government that really only has one priority, that is to keep political leaders out of jail, to keep their fortunes in their pockets, rather than in the state estate. So I think that's one main concern that EU regards to Romania."
But Romania's ruling Social Democrat party (PSD) told Euronews that Stefan's assertions "had no foundation and induces a totally false perception of the situation in Romania".
"Contrary to Laura Ştefan's affirmation, the justice reform promoted by the ruling coalition has removed elements that seriously affected the rule of law in Romania," the party said in a statement.
"It also introduced additional safeguards to protect magistrates against the pressures exerted on them by the intelligence services and by some prosecutor offices that were running out of any democratic control."
Romania will hold the EU presidency until the end of July when Finland will take over.