'The anger and hatred became so palpable': France's year in review
Comments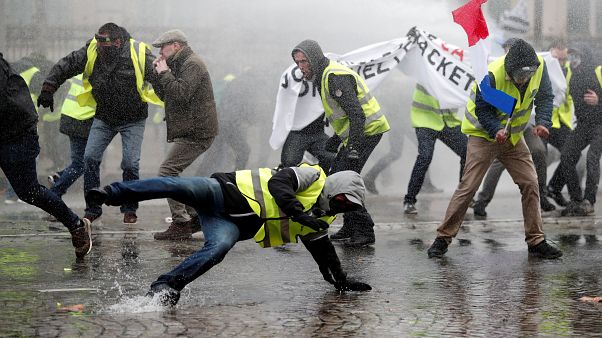 Euronews' correspondent, Anelise Borges, reflects on events in France this year and what 2019 might hold in store for the country.
What have been the biggest stories in France?
"Gilets jaunes" ("yellow vests"): It's the social movement that has caught France — and parts of Europe — by surprise. This is a country used to demonstrations but this protest was particular in the sense that rarely before have we seen such a diverse group of people: the men and women taking to the streets were pensioners, students, teachers, nurses, cleaners, truck drivers... but despite the vast array of backgrounds, they had one main message: they'd had enough, they wanted to be able to live — with dignity — with their salaries. They kept telling me: "we can't get to the 15th of the month and not have enough money to feed ourselves". That simple, raw demand resonated and forced the government to back down, at least for now. It was the year that the anger and hatred become so palpable.
READ: 'Gilets jaunes': Are French households any worse off than others in Europe?
Migration: Europe's so-called "migration crisis" has been another very important story in 2018 and sparked a very divisive and passionate debate about what kind of Europe people here want to build.
How has France changed this year?
"Reform" has been the word that defined 2018 in France. It all actually started in 2017 with the arrival of Emmanuel Macron to power.
His election signalled a new era of ambitious reforms - in depth and scope. France's youngest president spoke about the need for profound change as the only way forward for the country. He tried to convey a message of hope, but instead I believe fear dominated the conversation. As well as anger.
"The French want change but are reluctant to accept it if their own realities are affected". They are the words of a Macron voter in Albert, northern France, who also told me the French preferred when "presidents didn't do much, and maintained the status quo".
However, Macron came in hard, determined to deliver his promise to "transform France". That same Macron voter told me: "He's going too fast and hurting everyone in the process". But all that now seems to be on hold [because of the "yellow vest" protest].
Who has been France's personality of the year?
Alexandre Benalla: I think the person who had the most impact in the country, albeit a negative one, was Macron's former security aide, who was caught on video posing as a police officer and beating up a protester in May. Had it not been for Benalla, Macron may have been able to keep his cabinet together and portray something that at least resembled normality.
READ: Fresh blow to Macron as third French minister resigns
Édouard Philippe: In positive terms, I guess the title of 'personality of the year' goes to France's Prime Minister. Édouard Philippe has been a rock in this government. He's virtually the only stable piece of the puzzle — the one thing Macron has been able to count on. Despite the fact that his popularity has dropped significantly over the last month, because of all the back and forth during the "yellow vests" crisis between what Macron told Philippe to say and the concessions Macron was finally forced to make, Philippe is still seen as a reasonable leader, liked by a significant number of people I've spoken to. Even among the "yellow vests", the anger is not directed at him. They don't seem to hold him responsible.
What can we expect from France in 2019?
We are all gravely waiting for what's going to come next in this administration. Macron's been given a huge sign that he's not as stubborn as people thought he was.
Throughout the year, I've heard people say: "[Macron] doesn't listen, he only does what he wants."
Well, he listened. In fact, I think he was forced to listen after the anger and hatred got deafeningly loud.
Take the way he delivered that crucial TV address, for example — he had both hands on the table, he wasn't smiling, his voice was low (so much so there was a moment his voice actually cracked). He's trying hard to change his tone and appear less "arrogant, dismissive". It will be interesting to see what happens next to this man, this leader, and his presidency.
READ: What does Macron's body language tell us about his TV address?
How would the French rate this year and are they optimistic for 2019?
France is known for its incessant questioning. It's not exactly negativity and it is what I believe is great about this country: people are precise about what they want and do not let things pass. They don't let power or politicians get away with anything.
As we reach the end of 2018, the French say they are tired of those in power who "are not working for their benefit".
A lot of people here seem hopeful they can achieve a more just society and maybe lead the way and become an example to other countries — as we saw with the "yellow vests" who also spoke about inspiring people to demand better rights in other countries.
For now, however, everyone is holding their breath — there's lots of suspense — people don't know what will happen in 2019.
The way Emmanuel Macron begins the year, what he chooses as his priority will determine whether the "yellow vests" will come back, stronger than ever. Or if the movement will die down and the reforms of Macron will follow their course.
The feeling now is that everything is on hold and everyone is watching for it.
What were your favourite stories of 2018?
Aquarius migrant rescue ship

"Gilets Jaunes" ("Yellow Vests")

Mamoudou Gassama, the 22-year-old undocumented migrant from Mali who heroically saved a dangling child from a balcony. Read more: Humble super-hero: meet France's real-life Spider-Man

France winning the World Cup