German MPs meet Julian Assange at London's Ecuadorian embassy
Comments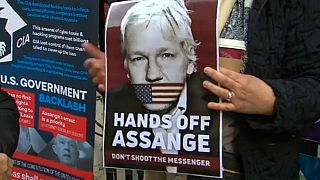 Two German MPs arrived to meet Julian Assange on Thursday at the Ecuadorean embassy in London, where the Wikileaks founder has taken asylum since 2012.
Sevim Dagdelen and Heike Hansel, both of Germany's Left Party, were due to meet Assange to discuss a "humanitarian solution" to his situation.
Assange first took asylum in the embassy in 2012, but in recent years his relationship with Ecuador has grown increasingly tense. Ecuador's President Lenin Moreno has said he does not like his presence in the embassy.
In October, the Ecuadorian imposed new rules that require him to receive routine medical exams, following concerns he was not getting the medical attention he needed.
The rules also ordered Assange to pay his medical and phone bills and clean up after his pet cat.