Bare-breasted 'Mariannes' face off with Paris police in silent protest
Comments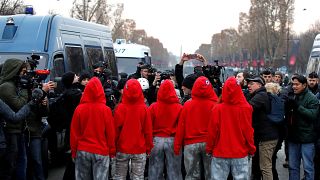 Five bare-breasted protesters dressed as Marianne, the symbol of the French Republic, faced off with police in Paris on Saturday in a silent demonstration.
The women, wearing red-hooded jackets and silver body paint, stood in a V-formation in front of riot police, who were deployed to the streets of the French capital for the fifth weekend of protests by the "gilets jaunes" (yellow vests) movement.
The silent action was reportedly organised by nude performance artist Deborah de Robertis in support of the gilets jaunes.
Euronews has reached out to her for comment.
Thousands of gilets jaunes joined the anti-government protests on Saturday, with police out in force to contain possible outbursts of violence.
READ MORE: 'Gilets jaunes' gather in Paris for fifth weekend of protests
It came after President Emmanuel Macron called on Friday for "calm" and "order".
The gilets jaunes movement emerged out of anger over planned fuel price hikes in France and later snowballed to become a wider protest against social inequalities.
Macron has announced a series of measures in a bid to quell the protests, but many have vowed to maintain pressure.