California man treats his neighbours to a dazzling Chistmas
Comments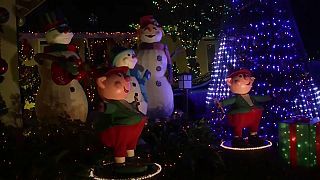 The Christmas countdown has begun, and in suburban California that means its time to take the kids to see a seasonal yard display.
Few householders can match the magical yule time display of lights and animatronics that has been created by a Christmas enthusiast in Sherman Oaks.
Singing snowmen, tap dancing elves and a dancing light tree, you might forget for a minute this is sunny California and not the North Pole.
The extravagant light show even has its own DJ Jingles who makes the lights and music move in synchrony.
The man responsible for all this is not Santa, but Mike Ziemkowski, who loves all things Christmas.