Nervous Italians see Swiss vaults as safe haven for their cash
Comments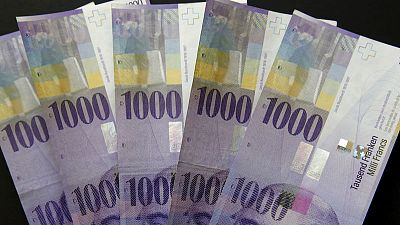 -
By Elvira Pollina and Angelika Gruber
MILAN/ZURICH (Reuters) – Italians worried about political uncertainty are looking across the border to stable Switzerland as a place to park more of their wealth, asset managers say.
While Italy's anti-establishment coalition government has stressed its commitment to the euro and pledged not to impose new taxes on its citizens' wealth, a stand-off with the European Union over budgets has left many Italians on edge.
Holger Schmitz from asset manager Schmitz & Partner based in Switzerland on the shores of Lago Maggiore has seen business pick up.
"Since early summer, many Italians are afraid of Italy's exit from the euro," he said, referring to fears that such a move could trigger chaos.
"This is the reason why many wealthy people from northern Italy have made the short trip to bring their money to Swiss banks and then convert from the euro into Swiss francs."
Franco Citterio, head of the banking association in the Italian-speaking southern Swiss canton of Ticino, has also noticed the trend.
"We have noticed a certain request for information on how to open an account, on how to invest, on what are the alternatives to the euro or an Italian bond," he told Reuters. "There are questions. There are visits. There is interest".
Transferring money from Italy to Switzerland is legal. It can be done electronically, so there is no need for Italians to cross the border carrying large amounts of cash, which Swiss banks could not accept anyway.
Figures from the Bank for International Settlements show that the business Swiss banks are doing with Italian retail and private banking customers and companies increased by 5 percent over nine months to $13.68 billion (10.75 billion pounds) at the end of June – around the time the current Italian government took office.
Third-quarter figures are not yet available but bankers suggest the trend identified in June may grow.
"When uncertainty is on the rise, you can see that money flows out of Italy," one senior Swiss private banker said.
Fabio Poma, managing director at wealth manager WMM in Lugano, said some customers worried about the situation in Italy have started to bring the money to Switzerland.
"The best security you can have right now is to transfer the money to another country," he said. "The people who are unsure have the opportunity to invest the money in other currencies. "
Italy's Deputy Prime Minister Luigi Di Maio said last month the government was committed to remaining in the euro zone and Deputy Prime Minister Matteo Salvini said the government would not tax citizens' savings.
Still, Rome's clash with Brussels is making some Italians nervous. Italy imposed a one-off forced levy on savings in 1992 during a currency crisis.
The European Union commissioner for economic affairs said last week that the EU executive was waiting for concrete and "credible" moves from Italy to revise its draft 2019 budget that is now in breach of EU rules.
One entrepreneur in northern Italy told Reuters he decided to open a bank account in Lugano in October. Last year he raised 500,000 euros (445,068.32 pounds) in cash by selling assets but did not reinvest it immediately. Then the populist government took power in June.
"I do not feel safe leaving all that money parked here. I want a safe exit strategy if things get worse", he said, asking not to be identified.
For banks in Switzerland, the influx is welcome. But Andrea Caraceni, chief executive of family office firm CFOSIM, said simply moving money across the border was not enough.
"If you want to insulate yourself from the Italian risk, the only form of protection is to move your residence abroad."
(Additional reporting by Elisa Anzolin, Massimo Gaia and Valentina Za in Milan and Hakan Ersen in Frankfurt; Editing by Giles Elgood)
euronews provides breaking news articles from reuters as a service to its readers, but does not edit the articles it publishes. Articles appear on euronews.com for a limited time.