Refugee families stranded for two decades on military base given UK residency: Exclusive interview
Comments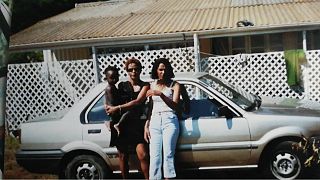 A group of refugee families left stranded for two decades on a British military base in Cyprus have been granted permanent residency in the UK.
The six families were part of a group of 75 people who fled Ethiopia, Iraq, Sudan and Syria in October 1998, taking the perilous journey across the Mediterranean Sea from Lebanon with hopes of reaching Italy.
But the group never reached their intended destination. Their fishing boat had taken on water during the journey and had sunk off the coast of the British Sovereign Base Areas (SBA) in Cyprus.
"I will never give advice to take that journey," Tag Bashir, the father of one of the families who escaped the Sudanese war, said in a statement to Euronews. But "if I didn't take that journey I might be dead already because of the war."
"The boat broke and we were rescued by the British base in Akrotiri. We felt happy because we were saved."
After their rescue, the heads of the six families, including Bashir, were detained for lengthy periods of time, but all six were eventually released when they were legally recognised as refugees.
Rebuilding their lives
In the almost two decades that followed, the families were forced to rebuild their lives in a legal limbo on the SBA while the UK government repeatedly denied responsibility for them, and their rights as refugees were not observed. The UK maintained that the rights listed in the United Nations' 195`1 Refugee Convention did not cover the SBA in Cyprus.
It "wasn't easy to start life on the base," Bashir said. "It was a battle we had to get through."
"It was frightening, frustrating and we were all angry," he added.
Living conditions were even less favourable. The UN Refugee Agency (UNHCR) said it had "long been seriously concerned about the plight and precarious situation of this group of refugees," in a report released in May 2017.
"SBAs are military bases and are not designed for permanent habitation, and hence the refugees had limited access to services like education and healthcare..."
Citing a 2013 psychological assessment, the UNHCR said it also "documented the adverse consequences of leaving these refugees and asylum-seekers in this predicament for so long."
Bashir's son, 18-year-old Emmanuel, who was born in Akrotiri and grew up on the base, told Euronews that being "stuck in a state of limbo" was the worst part of living on the SBA.
You're "trapped in a place where you can't go backwards or forwards, not being able to be the one who decides your own future simply because it is being restrained."
"Having to endure the thought of that suffocates you day by day."
Legal battle and UK residency
In 2014, the then-British Home Secretary Theresa May refused to admit the families to the UK, which was appealed and eventually ruled as an unlawful decision by the Court of Appeals in 2017.
And, just over a year later, the families were finally granted indefinite leave to enter the UK.
"We only want to thank everyone who has worked so hard to help us escape this 20-year nightmare," Bashir said in a statement released by his lawyers. "I cannot express how happy our families are to be given the opportunity to come to the UK and start our lives again."
Solicitor Tessa Gregory, who had taken on the families' legal case, said they were "delighted that the current Home Secretary has done the humane thing" by granting residency.
"The heads of these six refugee families who washed up on a British army base in 1998 were fleeing from terrible conditions in their own countries."
"Instead of being welcomed into the UK as refugees they have been left in limbo for twenty years, raising their families in substandard housing, riddled with deadly asbestos and void of an official identity."
Hopes for the future
In his conversation with Euronews, Tag Bashir said while he might miss the Cypriot weather, he was excited to establish his life the "proper way."
"We're very happy for our kids -- they have a brighter future not to stay like this," he said.
Emmanuel told Euronews of his interests in art and music, and his longtime ambitions he now had the ability to pursue after being granted residency.
"The hopes that I have for the future are really bright -- I've had them since I turned 13; wanting to study, wanting to learn more, and to explore places."
"Not being judged for what papers I've got and what I don't is a relief. We're all humans at the end of the day. Death has no discrimination, and nor does life," he added.
On the families' future, UNHCR spokesperson Matthew Saltmarsh said relevant steps were now being taken to work out "how best the individuals can be supported to help them integrate in the UK and rebuild their lives."