Good news for Italians — 'old age' now begins at 75
Comments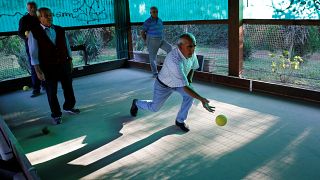 Copyright

REUTERS/Tony Gentile
In Italy, age is only a number, as citizens will now be considered 'elderly' after 75.
Friday's decision came from the National Congress of the Italian Society of Gerontology and Geriatrics (SIGG) in Rome.
"A 65-year-old today has the physical and cognitive capacity of a 40 to 45-year-old 30 years ago, and a 75-year-old has that of a 55-year-old in 1980," said Niccolo Marchionni, a professor of gerontology at the University of Florence, according to Italian news agency ANSA.
But Italians aren't just living longer, they're staying healthier for longer.
According to research cited at the congress, nine out of ten Italian seniors are in good health and one in three do physical exercise, while eight out of ten say they're satisfied with their lives.
Compared to a century ago, life expectancy in Italy has increased by 20 years.
"A large part of the population between 60 and 75-years-old is in excellent shape and free of diseases due to the delayed effect of the development of diseases and the age of death," said Marcionni.
Geriatriacians define "seniority" as adapting to changing demographics and advancements in medicine.
In Italy, statistical surveys suggest the average life expectancy for women is 85 years, and 82 to 83 for men. This is above the European average of 79-years-old.
"After all, the reality is there for all to see — a person who is 65-years-old today can no longer be perceived as 'old'," said Marchionni.