Factbox: People indicted, convicted, investigated in Trump-Russia probe
Comments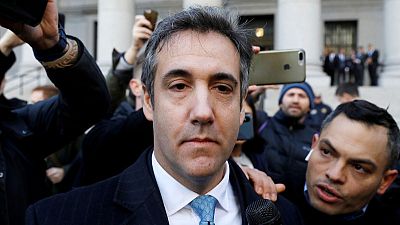 -
(Reuters) – Donald Trump's former personal lawyer Michael Cohen pleaded guilty on Thursday to lying to Congress, expanding the roster of Trump associates swept up in a probe of Russian meddling in U.S. politics that has clouded his presidency.
Special Counsel Robert Mueller is probing Russian interference in the 2016 U.S. presidential election, possible collusion between Moscow and the Trump campaign, as well as any possible obstruction of justice.
Trump denies any collusion and has long denounced Mueller's probe as a "witch hunt." Moscow has denied U.S. intelligence agency findings that it interfered in the election. Here are people who have been indicted, pleaded guilty, or convicted:
MICHAELCOHEN
Cohen pleaded guilty to lying to Congress about a proposed Trump Organization skyscraper project in Moscow. In his plea, he described efforts to pursue the project deeper into the 2016 U.S. presidential campaign than previously disclosed.
Court documents from his guilty plea, in federal court in Manhattan, to one count of making false statements to two congressional panels, showed Cohen briefed Trump and members of Trump's family more than three times on the project.
Cohen said in court that in 2017 he submitted a written statement to Congress saying all efforts relating to the Moscow project had ceased by January 2016. He said that, in fact, those efforts continued until June 2016, after Trump had effectively clinched the Republican presidential nomination.
The proposal to build a tower bearing Trump's name in the Russian capital ultimately did not materialize.
Cohen pleaded guilty in August to eight criminal charges, including tax evasion, bank fraud and campaign finance violations, in a separate case brought by federal prosecutors in New York. His sentencing in that case is scheduled for Dec. 12.
MICHAELFLYNN
A former national security adviser to Trump who was also a close campaign aide, Flynn pleaded guilty in December to lying to FBI agents about his contacts with Russia. He agreed to cooperate with Mueller's investigation. Flynn is scheduled to be sentenced on Dec. 18.
RICKGATES
A former deputy campaign chairman for Trump, Gates pleaded guilty in February 2018 to conspiracy against the United States and lying to investigators. He also agreed to cooperate with the Mueller investigation. He testified against former business partner and ex-Trump campaign chairman Paul Manafort at trial and is still cooperating.
KONSTANTINKILIMNIK
A Manafort aide in Ukraine and a political operative with alleged ties to Russian intelligence, Kilimnik was charged on June 8 with tampering with witnesses about their past lobbying for Ukraine's former pro-Russian government.
PAULMANAFORT
Trump's former campaign chairman agreed to cooperate with Mueller's investigation in a plea deal announced in September.
U.S. prosecutors have since accused him of breaching his plea deal by lying to investigators and urged a federal judge to move forward with sentencing him to prison.
Manafort, 69, who pleaded guilty to conspiracy against the United States, is the most prominent former Trump campaign official to strike a plea deal in Mueller's probe.
He was also convicted in August in a separate, related case in Virginia on bank and tax fraud. Sentencing in the Virginia case is slated for Feb. 8.
GEORGEPAPADOPOULOS
A former Trump campaign adviser, Papadopoulos was sentenced in September to 14 days in prison after pleading guilty in October 2017 to lying to FBI agents about the timing and significance of his contacts with Russian officials, including a professor who told him the Russians had "dirt" on Trump's Democratic presidential rival, Hillary Clinton. He reported to prison on Nov. 26.
SAMUELPATTEN
An American business partner of a Russian national accused by Mueller's office of ties to Russian intelligence, Patten pleaded guilty on Aug. 31, 2018, to unregistered lobbying for a pro-Kremlin political party in Ukraine. He agreed to cooperate with investigators. Although the case against him was not brought by Mueller, it was referred by his office.
RICHARDPINEDO
Pinedo was not involved with the Trump campaign, but in February he pleaded guilty to identity fraud in a case related to the Mueller probe for helping Russian conspirators launder money, purchase Facebook ads and pay for supplies. He was sentenced in October 2018 to one year of incarceration and allowed to serve half the sentence at home.
RUSSIANOFFICERS
Twelve Russian intelligence officers were indicted by a federal grand jury on July 13, accused of hacking Democratic Party computer networks in 2016, in the most detailed U.S. accusation yet that Moscow meddled in the election in an attempt to assist Trump.
RUSSIANNATIONALS, ENTITIES
Thirteen Russians and three Russian entities were indicted in Mueller's investigation in February, accused of tampering in the 2016 election to support Trump.
Concord Management and Consulting LLC, one of the Russian entities, has argued in court that the indictment against it failed to properly allege a crime. A federal judge on Nov. 15, refused to dismiss criminal charges against the firm.
ALEXVANDERZWAAN
A lawyer who once worked closely with Manafort and Gates, Van der Zwaan pleaded guilty in February to lying to Mueller's investigators about contacts with an official in the Trump election campaign. He was sentenced in April to 30 days in prison and fined $20,000.
(Compiled by Frances Kerry, Cynthia Osterman, Mohammad Zargham, Susan Heavey and Sarah N. Lynch; Editing by Kevin Drawbaugh, Grant McCool and Jonathan Oatis)
euronews provides breaking news articles from reuters as a service to its readers, but does not edit the articles it publishes. Articles appear on euronews.com for a limited time.