'Yellow Vest' spokespeople to meet French PM
Comments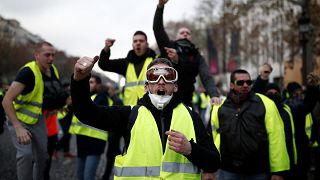 Copyright

REUTERS/Benoit Tessier
Spokespeople for the "Gilets Jaunes" (Yellow Vests) protest movement have said French Prime Minister Edouard Philippe wants to meet them on Friday.
The group has carried out demonstrations across the country, blocking access to fuel depots, main roads and public transport.
Its primary focus was a planned rise in fuel taxes on petrol and diesel but the movement has widened and now encompasses protests against economic hardship and the perceived elitism of French President Emmanuel Macron.
Philippe invited the group to come to the Hôtel de Matignon, his official residence in Paris, at 2 p.m. CET, the group said in a statement, released Thursday morning.
The meeting will take place on the eve of the Gilets Jaunes' third weekend of national action, with violence erupting on last Saturday on Paris' famous landmark the Champs-Elysées.
Two members of the group on Tuesday met France's Minister of Ecological Transition François de Rugy.
Thursday morning's statement said the Yellow Vests hope "that this meeting is more satisfactory and concrete than the first".
It came as official spokespeople Eric Drouet and Priscillia Ludosky confirmed on Tuesday that another protest was to go ahead on the Champs-Elysées on Saturday, December 1.
Macron addressed the group's demands for the first time on Tuesday, offering small concessions but also saying the hike in fuel taxes that will come into force in January would not be scrapped.
He likened the protests last Saturday to "scenes of war".
An opinion poll published Wednesday found two in three people in France supported the Yellow Vests and nearly 80% thought the measures proposed by Macron were "insufficient", despite the disruption caused by protests.