Russia 'not interested' in war with Ukraine, Russian lawmaker says
Comments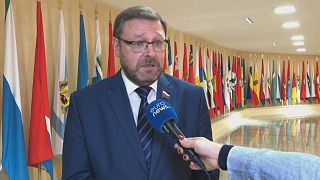 Russia is "not interested in military confrontation with Ukraine," Russian lawmaker Konstantin Kosachev told Euronews on Thursday, amid an ongoing standoff between the two nations. 
Kosachev, who is the chairman of the international committee of Russia's Federation Council, warned that a military confrontation would continue to escalate only if initiated by Kiev, insisting a confrontation "will never happen on Russia's instigation." 
"It is possible and absolutely necessary to resolve this issue with politics," Kosachev said to Euronews' Galina Polonskaya. "There is no alternative to it. Russia is ready to develop relations with Ukraine in a normal way." 
Response to martial law
When asked why he thought Ukraine would impose martial law following Sunday's incident with Russia in the Black Sea, Kosachev suggested it was all part of the Ukrainian government's plan to secure support in the upcoming presidential elections. 
"There's no doubt that the current authorities are setting themselves up for the most comfortable conditions to carry out their election campaign under the motto: 'Ukraine is surrounded by enemies; Ukraine is a beseiged fortress, and the current government is the only government that can save it.'" 
READ: Ukraine - what is meant by martial law?
Future for the detained Ukrainian sailors
When asked what was in store for the 23 Ukrainian sailors who were detained after Russia fired upon and seized three Ukrainian vessels on Sunday, Kosachev implied a lengthy road ahead. 
"There will be an investigation and there will be trials because it is, after all, a violation of the current Russian legislation," he said. "And, after that? The court will have to decide."