G20 leaders arrive in Argentina, talks on statement 'very, very difficult'
Comments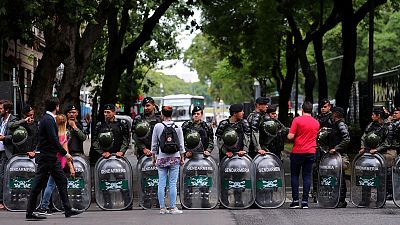 -
By Ross Colvin
BUENOSAIRES (Reuters) – G20 member nations were still struggling to reach agreement on major issues including trade, migration and climate change as world leaders began arriving in the Argentine capital ahead of a summit starting on Friday.
"This is not a good year for multilateralism," said a German government source about talks on a final statement that the leaders are due to issue at the end of their meeting on Saturday. The negotiations are "very, very difficult," the official told Reuters.
The official offered no details on the points of dispute, but global trade tensions, fuelled by President Donald Trump's launch of a trade war against China, are expected to dominate this year's gathering of the Group of 20, an unwieldy club of the world's industrialized countries.
Trump's scepticism that global warming is caused by human activity also raised questions about what the statement will say on the issue.
This year's G20 gathering is expected to be one of the most consequential summits since the group's leaders first met in 2008 to plan how to contain the economic crisis.
Financial and commodities markets are closely watching the outcome of the summit, especially the planned meeting between Trump and Chinese President Xi Jinping on Saturday.
"After 2-1/2 days of talks and very short nights, some two-thirds of the paragraphs have been okayed," said a G20 official involved in drafting the statement.
"Now, trade, climate, migrants, refugees, multilateralism, steel – which are really the thorny issues – remain without agreement."
Argentina, this year's G20 president, has stressed the importance of the summit as a consensus-building forum. But the divisions have only highlighted how fractured the grouping has become on key global issues.
"It's moving very very slowly – so slowly that I think we will have to stay in this room past midnight, again," an Asian delegate who was attending the closed-door discussion told Reuters.
Financial markets though are less concerned about the ability of the leaders to present a united front and more anxious about the outcome of key bilateral meetings. Wall Street edged lower on Thursday amid jitters over Trump's meeting with Xi.
Trump said on Thursday he was open to a trade deal with China but was not sure he wanted one.
"I think we're very close to doing something with China but I don't know that I want to do it," Trump told reporters.
Trump's hardline trade adviser, Peter Navarro, will attend the meeting between Trump and Xi, a source familiar with the situation told Reuters.
China, for its part, is hoping for "positive results" in resolving the trade dispute with the United States, the commerce ministry said on Thursday.
The United States has levied additional duties of between 10 percent and 25 percent on $250 billion (195.7 billion pounds) of Chinese goods this year as punishment for what it calls China's unfair trade practices, with the 10 percent tariffs set to climb to 25 percent next year. China has responded with its own tariffs.
NO PUTINMEETING
One leader Trump will not be seeing in a one-to-one meeting is Russian President Vladimir Putin. Trump on Thursday abruptly cancelled their planned bilateral talks, citing Russia's seizure of Ukrainian vessels.
"Based on the fact that the ships and sailors have not been returned to Ukraine from Russia, I have decided it would be best for all parties concerned to cancel my previously scheduled meeting in Argentina with President Vladimir Putin," he tweeted.
Roughly an hour earlier, he had told reporters he would probably meet with Putin at the summit and said it was "a very good time to have the meeting."
White House spokeswoman Sarah Sanders told reporters on Air Force One that Trump made the decision not to meet Putin after speaking with Secretary of State Mike Pompeo, White House chief of staff John Kelly and national security adviser John Bolton.
A Russian diplomatic source said afterwards that Trump and Putin still needed to meet to discuss the Intermediate-Range Nuclear Forces (INF) treaty. Trump's administration has accused Russia of non-compliance with the 31-year-old missile accord and warned it will pull out of the deal as a result. The Kremlin denies violating the pact.
"We still have to discuss the INF. This is important. We still need a full scale meeting," the source told Reuters.
This year's G20 summit is also grappling with how to handle the presence of Crown Prince Mohammed bin Salman. Saudi Arabia's de facto ruler arrived in Buenos Aires on Wednesday under a cloud of controversy over the murder of Saudi journalist Jamal Khashoggi in a Saudi consulate in Istanbul in October.
Argentine President Mauricio Macri said the allegations against the prince may be discussed during the G20 summit. Saudi Arabia has said the prince had no prior knowledge of the murder.
As the leaders arrived, Argentine security forces began locking down the central business district in Buenos Aires on Thursday. Streets and shops were noticeably emptier.
The government has declared Friday a national holiday and urged the capital's residents to leave to avoid travel chaos caused by the security lockdown. Major protests are also due on Friday.
(Reporting by Andreas Rinke in Berlin, Jeff Mason, Roberta Rampton and Makini Brice in Washington, and Yawen Chen and Ryan Woo in Beijing and Cassandra Garrison in Buenos Aires; Writing by Ross Colvin; Editing by Frances Kerry and Alistair Bell)
euronews provides breaking news articles from reuters as a service to its readers, but does not edit the articles it publishes. Articles appear on euronews.com for a limited time.