In Pictures: Deforestation in Brazil's rainforest is close to five times the size of London
Comments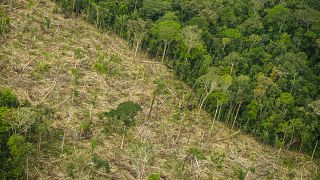 Deforestation in the Brazilian Amazon rainforest went up by 13.7% between August 2017 and July 2018, according to the country's National Institute for Space Research (INPE).
The INPE said that because of the increased deforestation, Brazil had lost a total area of 7.900 km² of rainforest, which Greenpeace Brazil estimates is close to a million football pitches or five times the size of London — Europe's largest city by area.
Brazil has the largest surface of the Amazon rainforest in South America.
Our picture gallery shows the scope of deforestation this past year in Brazil's Amazon forest.
According to Greenpeace Brazil, the cause for the increased deforestation lies in Brasilia with the government.
The NGO blames the rural lobby in Congress for "threatening the rainforest, its people, and the planet's climate".
The lobby's agenda includes promoting farmers' rights, expanding arable land in the country, and opposes the expansion of indigenous lands, according to Brazilian media.
"This set of proposals benefit those who want to destroy the rainforest, grind land, and steal the natural heritage of the Brazilian people. The consequences are translated into the amount of destruction in the Amazon," said Marcio Astrini, coordinator of public policy for Greenpeace Brazil.
Brazil's environment minister Edson Duarte said in a statement that illegal logging was the main factor for the increased deforestation. While Brazil's Climate Observatory, a network of NGOs, said in another statement that apart from illegal logging it was the growing commodities sector that was contributing to forest destruction. 
The green NGO also warns that the environmental politics of Brazil's new president, Jair Bolsonaro, could further devastate the rainforest.
"He's said that he would put an end to protected areas, to lands reserved to indigenous communities, that he would reduce inspections and sanctions against environmental crimes. Everything that reduced deforestation before. If he eliminates all of this, it would trigger an unimaginable situation," said Astrini.
Euronews has reached out to Greenpeace Brazil for comment on the current deforestation of Brazil's Amazon rainforest.