Europe briefing: EU-UK draft deal on post-Brexit ties and head of Russian spy agency dies
Comments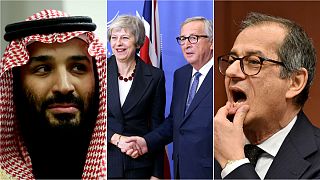 1) EU and UK negotiators agree on draft deal on post-Brexit ties
European Commission and the UK negotiators have agreed on a draft text of a political declaration on post-Brexit ties, European Council President Donald Tusk confirmed on Twitter. 
The draft declaration will be passed on to the national envoys from the member states on Thursday. On Sunday, they will vote on whether or not they approve it.
The text was discussed on Wednesday by British Prime Minister Theresa May and European Commission President Jean-Claude Juncker.
2) Head of Russian spy agency accused of Salisbury novichok attack dies
The head of Russia's GRU military agency — who has been blamed for various attacks by the West — has died after a "serious and long illness," said the Russia defence ministry.
Igor Korobov, 62, ran the spy agency since 2016. TASS cited the ministry as saying he had been made a hero in Russia for his service in the post.
3) Poland reverses Supreme Court reforms after EU criticism
A legislative amendment to reverse Supreme Court reforms was passed in Poland's parliament after it was put through by the ruling Law and Justice party (PiS). 
The changes come after the European Court of Justice ordered Poland to suspend the judicial overhaul in October. 
The law had forced many judges to retire at 65 instead of 70, effectively enabling PiS to select their replacements. Under the amendment, judges who were retired can now return to work.
4) EU says a transparent, credible investigation into Khashoggi's murder is not completed yet
A transparent and credible investigation into the murder of Saudi journalist Jamal Khashoggi has not yet been completed, the EU's foreign affairs chief Federica Mogherini said on Thursday, after talks with Turkey's foreign minister. 
The EU's commissioner for candidate countries, Johannes Hahn, said the EU was also concerned about the large number of journalists and academics still detained in Turkey.
5) Swedish Centre Party leader Annie Lööf gives up on talks to break deadlock over forming new government
Annie Lööf, the leader of the Swedish Centre Party, has given up on trying break the political deadlock in Sweden and forming a new government. 
She's the third politician who's failed to find a way forward after September's elections left the parliament deadlocked. The speaker of parliament will decide what happens next.