France passes controversial 'fake news' law
Comments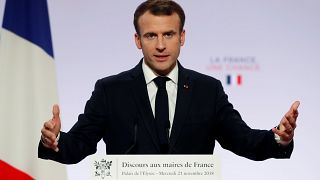 France's parliament has passed a new law, which aims to empower judges to order the immediate removal of "fake news" during election campaigns.
Critics argued that the controversial law against the "manipulation of information" could jeopardise democracy and censor the press.
The law, conceived by President Emmanuel Macron, was rejected twice by the senate before being passed by the parliament on Tuesday
It is considered western Europe's first attempt to officially ban false material.
Macron has said he believes that the internet must be regulated.
"This is the sine quanon condition for a free, open and secure internet, as envisioned by its founding fathers," he told the annual Internet Governance Forum in Paris last week.
Candidates and political parties will now be able to appeal to a judge to help stop "false information" during the three months before an election.
The law also allows the CSA, the French national broadcasting agency, to render the authority to suspend television channels "controlled by a foreign state or under the influence" of that state if they "deliberately disseminate false information likely to affect the sincerity of the ballot."
This means France has the power to take on any foreign TV station suspected of spreading "false news."
The law also states that users must be provided with "information that is fair, clear and transparent" on how their personal data is being used. 
Outlets are required to publicly disclose money they have been given to promote certain information. 
Those who support the law say the goal is to fight the spread of fake news, not to censor opinions.
Anyone who violates the law could face one year in prison and a fine of €75,000.
The French government has been accused by both right and left wing opponents of trying to create a form of "thought police." 
French politician and former National Front (now known as the National Rally) member Julien Rochedy took to Twitter to criticise the law. 
"That's it, the fake news act was passed by parliament. The French state finally has a monopoly on truth and mass diffusion. It can legally censor anything it doesn't like. The return of the 1930s," he wrote. 
The law has also been heavily criticised by Russian media, who say it could jeopordaise democracy and censor the press. 
State-run media outlet Russia Today believes the new law "clearly targets foreign media."
Its editor-in-chief, Margarita Simonyan, called the law a "banal, old-fashioned and boring fight against dissent."
The outlet also claimed that Macron has been harbouring a grudge against Russia Today and Sputnik since the start of his presidential campaign.