Brexit text can't be reopened, says Ireland's foreign minister Simon Coveney
Comments
By Shona Murray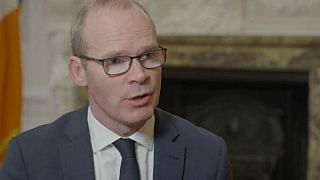 -
Irish foreign minister Simon Coveney says the EU would welcome back Britain 'in a heartbeat' if it decides to return to the bloc one day.
In an interview with Euronews' Raw Politics programme, Coveney says there's no room to move around the Brexit withdrawal agreement.
"The withdrawal agreement or the withdrawal treaty text, is agreed. It's closed," he said.
"The British government signed off on it. It's not going to reopen. If you reopen it, for one issue, well then there's an avalanche of other asks I'm sure that different countries will have. So no, that text is closed," he added.
Coveney said he wants to concentrate on the future relationship with the UK and reassure the public that the process is moving in a direction that the people can support.
No extension on Article 50
"Theresa (May) has made it clear she doesn't want to extend Article 50," Coveney said.
Article 50, known as the Treaty of Lisbon, gives any EU member state the right to leave the bloc and it has two years to negotiate an exit deal.
"I think we need to talk about less of the what ifs here and talk more about what is on the table," he said.
When asked if the EU would welcome the nation back, Coveney said: "We'd welcome Britain back in a heartbeat".
"In my view, nobody wants Britain to leave," Coveney said, explaining how many EU countries look up to Britain for direction.
"The EU without Britain is a lesser place. I would certainly, at any point in the future, would love to see Britain rejoining or being part of the European Union," he said.
Watch the full interview