Spoof video shows May pleading with DUP leader over Brexit | Raw Politics
Comments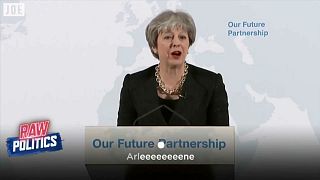 A spoof video has emerged, which makes British Prime Minister Theresa May appear to be pleading with DUP leader Arlene Foster over Brexit plans.
The clip kicks off by showed May repeating Foster's name and has been edited to fit the tune of Dolly Parton's song "Jolene".
By cutting together multiple shots of the Prime Minister, the video's creators make it seem like May is saying lines that resemble lyrics from the song, but with a Brexit-themed twist.
"I'm begging you, please don't break my plan," she appears to say.