Could fuel protests leave Macron's government in crisis? | Raw Politics
Comments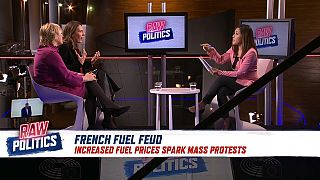 Motorists in France and Belgium are hoping to bring the former to a standstill on November 17 by blocking roads and highways in protest against rising fuel costs.
Dubbed the 'yellow vests', the social movement hopes the action will force Emmanuel Macron's government to reverse increases in the price of petrol and diesel, which have shot up by as much as 23% over the last year.
Yet they are already facing resistance at Elysee in the form of Interior Minister Christophe Castaner, who warned in an interview with BFM TV that "no total blockage" will be tolerated.
Discussing the issue on Raw Politics Tuesday was French MEP Christine Revault D'Allonnes-Bonnefoy and Belgian MEP Hilde Vautmans. Watch the debate in the video player above.