World Chess Championship in thrilling deadlock
Comments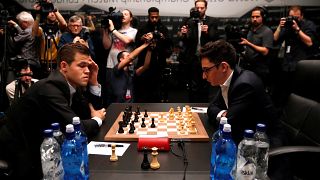 -
It's a faceoff between the world number one and the world number two — a tense gaming event with a wall of press cameras fixed on the competitors and fans on the edge of their seat, both in person and watching from home.
You may not have immediately thought, "chess" — but it is. The World Chess Championship kicked off on Friday November 10 with the first of a potential 12 game series.
The Match Up
The world number one and three time world champion is heading in confident, but not overly so. 27-year-old Magnus Carlsen has sat comfortably on the throne of the chess world for the last five year. A part-time model, the Norwegian phenom has been credited with expanding the appeal of a traditionally stuffy and inaccessible game.
His challenger is world number two Italian-American Fabiano Caruana. He's just 26 and is already drawing comparisons to American chess great Bobby Fischer, who stunned Russian Boris Spassky in a Cold-War era matchup in 1972 that was about as high profile as chess ever got.
But Caruana doesn't want such a hefty comparison to be made prematurely.
"If I become world champion the comparison will be more apt," he said before the biennial contest kicked off.
Chess scoring gives a player a point for a win, and half a point for a draw. In the series, the first player to 6.5 wins. If a tie remains after the first 12 games, the players go to a series of tiebreakers. After two games and two draws, Carlsen and Caruana are level with one point each.
A New Image
The two young competitors are a dream matchup for chess fans, and rightfully bring up the question of appeal. If it's played by two young men in designer clothes, can it be something that's cool to watch? Can it spark screaming fans?
Maybe.
But Carlsen, predictably, doesn't look at it as an effect he's having on the game.
"I've found chess the coolest thing in the world since I was eight years old," said Carlsen at a pre-championship press conference. "It's always been that way."