Watch: Elderly woman confuses Merkel for 'Madame Macron'
Comments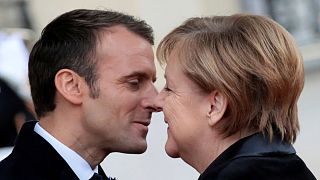 -
Copyright

REUTERS/Reinhard Krause
The expression "Franco-German couple" has often been used to describe the partnership between the two nations seen as powering European Union integration.
But for an elderly French woman who met French President Emmanuel Macron and German Chancellor Angela Merkel on Saturday, the expression nearly took a whole new meaning.
The two leaders were in Rethondes, the municipality in northeastern France where the 1918 armistice was reached putting an end to four years of war, to inaugurate a plaque commemorating the 100th anniversary of its signing.
After the somber ceremony, Macron and Merkel spent a few minutes greeting some of the people who had gathered to take part in the event.
One elderly woman, a day short of celebrating her 101st birthday, was particularly overcome by emotion upon meeting the two heads of state.
"Don't make me cry," she told Macron as he was shaking her hand, before turning her head towards Merkel to ask: "Are you Mrs Macron?"
As the three turned to take a picture together, she repeated her question. A visibly-amused Merkel bent down and in an approximate French replied: "I am German Chancellor."
Despite Merkel and a translator's best attempts, it seemed the old lady still didn't quite understand.
After the picture was taken, hands shaken and kisses exchanged, the old lady assured that she'll "still be there next year."