Marseille building collapse: balcony gives way as city honours victims
Comments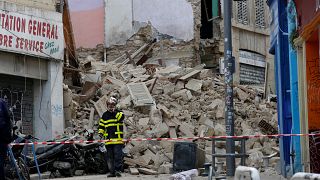 Part of a balcony gave way in Marseille during a march to pay tribute to the victims of a deadly building collapse in the French city.
It happened as thousands turned out to honour the eight people who died when two structures came crashing down on Monday (November 5).
The death toll has been edging up over the last week as rescuers sifted through the debris of the city centre collapse.
Firefighters said three people were injured in the balcony incident on Saturday (November 10).
A woman, 59, and a boy, seven, both fell to the ground from the first floor, while a falling piece of debris hit a 24-year-old woman on the foot.
The state of numerous Marseille buildings is now under the spotlight after the deadly collapse last Monday.