Brussels protesters support 12 on trial for helping migrants
Comments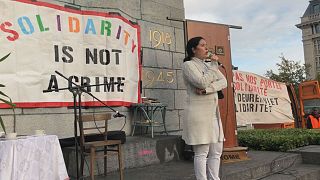 Hundreds of protesters gathered outside a Brussels courthouse on Wednesday to show support for 12 people on trial for helping migrants.
The individuals are charged with human trafficking and sheltering undocumented migrants in Belgium — they could face prison.
As many as 300 to 500 people attended the event, according to police.
Demonstrators held banners with the name of the group that organised the protest: "Solidarity is not a crime."
Anouk Van Gestel is one of those on trial for housing a Sudanese migrant.
"One day I asked someone for help to move a young migrant to England so he'd be in a safe environment," she told Euronews.
"I called someone whose phone was tapped and that was where my problems started."
The trial of the migrant hosts began on Wednesday in Brussels.
Van Gestel thinks "the justice system will do its job" concerning her case and find her innocent.
"I think the process, the one that concerns me, shouldn't have happened," she added.