Taiwan now home to 'world's largest performing arts centre'
Comments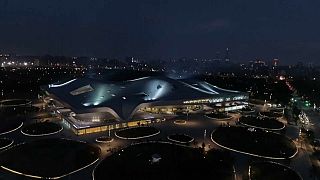 -
Taiwan is now home to the sprawling National Kaohsiung Centre for the Arts, which is said to be the largest performing arts centre in the world.
Also known as Weiwuying, it houses four theatres — a concert hall, opera house, play house and a recital hall — under a single roof.
The unique design by Dutch architecture firm Mecanoo was inspired by the features of the port city.
"We really wanted to show the welding, we made hoist points so people can hang things. You even see it in the characters in the naming of the different auditoria that we did in the detailing of the ship building industry, just like a cargo ship," said Mecanoo architect Francine Houben.
Chien Wen-pin, Weiwuying's artistic director, said construction costs were much lower than other Europeans projects that resulted in smaller cultural structures.
"Such a massive construction like Weiwuying of over three hectares with such a big roof. And all this was built in seven to eight years. This is really formidable. Really amazing. Not to mention its cost. To Europeans, this is unbelievable. How could anyone spend that little money to build such a massive construction in such a short time."