Aerial footage shows extent of damage in Italy's storm-hit Rapallo
Comments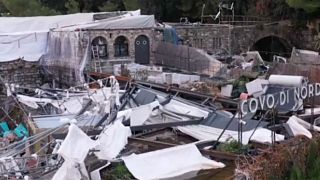 New aerial footage has revealed the extent of damage caused by storms in the Italian town of Rapallo, where boats have been submerged in water, buildings covered in debris and roads destroyed.
The footage, recorded on Saturday and released by Italian fire and rescue service Vigili del Fuoco, shows the town is still suffering from the effects of the October 30 storm, which brought flooding and strong winds.
Vast piles of debris, collapsed roads and sunken yachts are among the damage shown in the video.
Heavy rains and strong winds have been battering Italy for several days, uprooting trees, destroying buildings, and cutting off villages and roads.
Officials announced on Sunday that at least 29 people had been killed in the country as a result of the storms.