Neil Armstrong astronaut memorabilia auction lifts off
Comments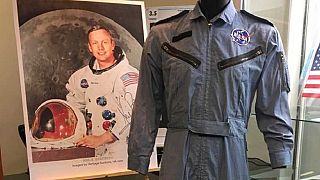 Copyright

NASA/Heritage Auctions

-
Space enthusiasts stirred by NASA astronaut Neil Armstrong's venture to the moon spent more than $4 million (€3.5 million) in just the first day of a rare auction of Armstrong's personal collection of memorabilia.
On July 20, 1969, Armstrong, who led the Apollo 11 mission, became the first human to walk on the moon.
The auction is the first major sale of his personal collection that comes amid a growing demand for space collectibles as the 50th anniversary of the July 20, 1969 moon landing approaches.
Flight suits, medals, flags, and photographs were among the items that went under the hammer giving space fans the chance to own a piece of history.
The top seller so far is a plaque that held the Apollo 11 lunar module's ID plate, which went for $468,500 (€411,000)
The flight suit worn by Armstrong during the Gemini program was just sold for $87,500 (€77,000)
Another highly coveted item sold on Thursday was an envelope signed by Armstrong, astronaut Buzz Aldrin, and their third crewmate, Michael Collins.
The envelope was "insurance cover" that family members could sell if the astronauts failed to come back. It sold for $18,750 (€16,400)
The auction will continue until Saturday by Dallas-based HeritageAuctions.