Basketball player's dog, Kobe, rejected at Australian customs
Comments
By Alex Johnson with NBC News World News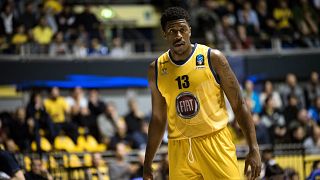 -
Copyright

Pacific Press
An American basketball player was in the doghouse Thursday after he took his French bulldog into Australia in his carry-on luggage.
Authorities seized the dog — named, of course, Kobe — and were preparing to fly him back to the United States after Lamar Patterson arrived at Brisbane Airport to join up with his new team, the Brisbane Bullets of the Australian National Basketball League.
Kobe and Patterson, a second-round pick by the Milwaukee Bucks in 2014 who played last season in the Italian league, boarded the flight to Brisbane from Los Angeles International Airport without incident, Andrej Lemanis, the Bullets' coach, said in his postgame news conference after the Bullets' 108-98 victory over the Adelaide 36ers on Thursday.
When Patterson got to LAX with Kobe, "he asked if he could take his dog, and the response was yes, and it was even on his boarding pass that he's traveling with a dog, but obviously there was some confusion as to whether — like, they probably thought that he only meant domestically," Lemanis said.
"No one said anything to him, and he went through security — somehow he got it on the plane," Lemanis said.
Lemanis said the incident was partly the team's fault.
"We should take some responsibility and say that's one of the things, obviously, that we need to communicate in the future," he said. "It's a learning curve for us, as well, in terms of full communication."
The incident didn't delay Patterson's start with the Bullets, because "he was never going to play tonight anyway," said Lemanis, who said his new forward would likely be available for the Bullets' return game against the 36ers on Saturday.
Australia has strict quarantine regulations to prevent diseases like rabies from spreading to its shores. Taking a pet into the country involves applying for a permit and a quarantine on arrival of at least 10 days.
In May 2015, Pistol and Boo ran afoul of those laws when their owners, Johnny Depp and his wife at the time, Amber Heard, smuggled them into Australia aboard their private jet.
Depp and Heard fought the government, which handed down a death sentence for the dogs. They eventually were flown back to the United States only hours before what would have been their gruesome fate.