Approval ratings for French President Macron hit record lows | Raw Politics
Comments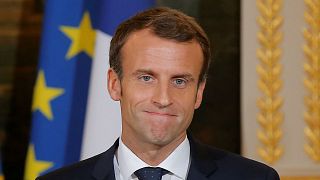 Copyright

Michel Euler/Pool via REUTERS
New approval ratings show that French President Emmanuel Macron is more unpopular than ever, with no-confidence levels hitting a record 71%.
"Between dream and reality, there's a big difference and that's what people are starting to realise," said Mark Demesmaeker, a Belgian MEP with the European Conservatives and Reformists.
But Brian Maguire, a reporter at Euractiv.com, told Euronews' Raw Politics programme the decline in popularity was "part of his calculation from the beginning".
"They had to do some damage in the first two years and then they had to rebuild with a more populist agenda in the second half of his mandate," he explained.
Watch the video above for the full story on Macron's plummet in popularity.